Cape Cod Pond Homes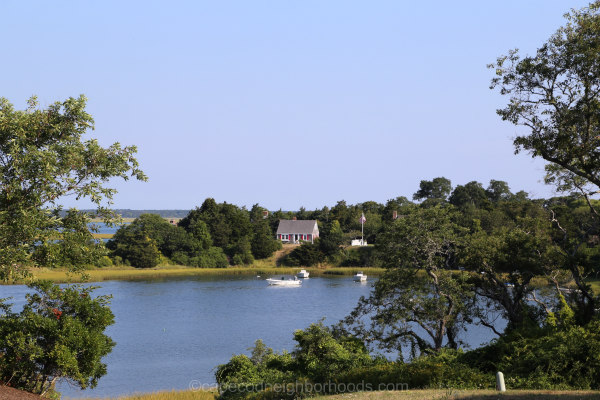 Cape Cod's ponds vary in size and development — from Wellfleet's Duck Pond with its single house — to Long Pond in Harwich which features hundreds of homes along its 6.4 mile shoreline. Ponds, both freshwater and saltwater, offer varied ecosystems and recreational opportunities for buyers and visitors alike. The following is a quick overview of the types of ponds:
Kettle Ponds — an iconic feature of the Cape, these ponds formed by retreating glaciers during the last Ice Age, leaving depressions that filled with water over time. Kettle ponds are clear, clean, and perfect for swimming, fishing, and boating. Well-known kettle ponds include Great Pond in Eastham, Long Pond in Wellfleet, and Cliff Pond in Brewster.
Saltwater Ponds — these ponds connect to the ocean through natural inlets or tidal creeks.They create unique habitats for various marine species and birdlife and are popular for shell fishing and kayaking. Herring Pond in Eastham and Stage Harbor in Chatham are examples of saltwater ponds.
Cape Cod Pond Homes For Sale
Cape Cod Pond Homes For Sale
October 3, 2023
$1,225,000
Med. List Price
More About Cape Cod Pond Homes
Cape Cod ponds offer a number of waterfront recreational activities throughout the year. In warmer months, residents can enjoy fishing, kayaking, swimming, paddle boarding, and sailing. Ponds are also a favored destination for anglers looking for bass and pickerel, among other types of fish. Several local towns regularly stock their ponds to enhance fishing experiences.
Similar to the beaches, many of the ponds are protected as part of conservation areas or state parks. These initiatives are designed to preserve their natural beauty as well as the biodiversity of the region.
Our website offers you the opportunity to drill down and look at homes for sale by both town and individual pond across Cape Cod. Our team members are available to help you evaluate the various Cape ponds and help narrow your search for a home to one of these gems.
Explore Cape Cod Pond Neighborhoods