Motor Mart Garage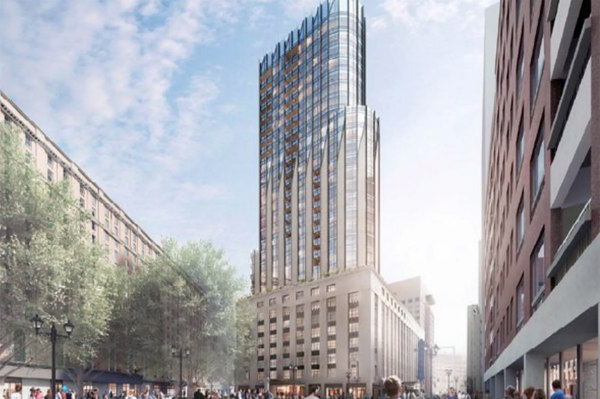 Motor Mart Garage is a luxury condo building located in Boston's Back Bay neighborhood. The 20-story building is coveted for its location and its private residences. When completed, the building will feature 231 residences with ground level retail and upscale amenities.
The landmark Motor Mart Garage could soon be reimagined into a new luxury development. The Boston Planning & Development Agency recently approved remaking the property in Boston's Bay Village neighborhood into 231 new luxury condos and some commercial space.
Boston-based CBT is the architectural firm behind the project. It plans to give new life to the old garage on Stuart Street. The original garage was first constructed in the late 1920s. With more than 1,000 parking spaces it was once considered the world's largest parking garage.
Boston Global Investors and an affiliate of CIM Group are behind development of the new tower. Plans call for using the existing eight-story garage, then remaking it into a mixed-use building, which includes some lower-level retail space.
They'll be constructing the new residences in part of the existing building, plus also inside a new residential tower that rises up from the original structure. When finished, the entire development will include new condos, retail space, as well as hundreds of parking spaces.
Some of the commercial space in the newly remade building is expected to include a grocery store. The project also aims to offer well more than 600 parking spaces, when finished.
Motor Mart Garage Amenities
Residential amenities are expected to include a small outdoor swimming pool and a fitness center. As for the new condos in the building, they'll likely range in size from studios to three-bedroom floorplans.
Motor Mart Garage Location
The project already has a coveted location. The old Motor Mart Garage sits within walking distance of area restaurants and schools. Situated close to the edge of Bay Village and the Theater District, the Art Deco-style building also sits close to other landmark buildings in this part of Boston, and its only one block away from Public Garden. CIM Group purchased the old Motor Mart Garage a few years ago.
Motor Mart Garage Fast Facts
Units: 231
Stories: 20
Delivered: TBD
Ownership: Condominium
Location: Stuart Street between Park Place and Church Street
Neighborhood: Back Bay
Address: 201 Stuart Street Boston, MA 02116
-- I Have a Question About Motor Mart Garage --