Meet Mark Washburn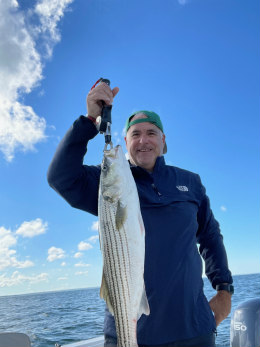 Favorite Cape beach? Newcomb Hollow
Famous person with whom you would like to dine? Warren Buffet
Best spot on Cape for sunset? Race Point
Favorite restaurant? Mac's Shack & Bluefins Sushi & Sake Bar
Preferred golf course? Cape Escape Mini Golf
Best lobster roll? Arnold's Warm Lobster Roll
Favorite Cape League baseball team? Orleans Firebirds
Favorite ice cream spot: Nauset Ice Cream
Most romantic location on Cape? Duck Pond at dusk
Favorite outdoor activity? Chasing stripers in the Bay
What attracted you to the Cape? Beautiful Outer Cape beaches
Mark grew up on the South Shore and has spent a lifetime enjoying waterfront activities on Cape Cod. An avid boater, enthusiastic angler and off-roader, Mark possesses particular expertise in waterfront and boating communities. From sailing to cruising to understanding the tides and the various beaches, ponds, and waterways; Mark can assist in identifying the best locations for your boating and docking requirements. Whether you're looking for a multi-generational compound overlooking the ocean, the best place to catch stripers, or family-friendly beaches for young children, Mark can help you find that elusive property that ticks multiple boxes.
A serial entrepreneur, Mark spent much of his career starting and managing early-stage companies in real estate and the telecommunications industries. He was recognized as both an Ernst & Young Entrepreneur of the Year Finalist as well as a Boston Business Journal 40 Under 40 recipient. Mark uniquely combined his technical and customer skills into creating the Coastal Neighborhoods Web Site to streamline the process for finding a new home on the Cape and in other waterfront communities.
Mark is an active real estate investor and licensed Realtor in the states of Florida, Massachusetts, Virginia, and the District of Columbia. Together, Mark and his agent partners have closed more than $1B in sales from leads his sites have generated. In addition to enjoying time on his boat, Mark also enjoys cycling, off-roading on the Outer Cape Beaches, and staying fit. Mark holds a BS from Clarkson University in Marketing and Computer-based Management Systems.
Contact Mark