Leverage Technology
National Association of Realtors research has found over 85% of all home searches begin online and that over 70% of those begin on Google.  Our research indicates that these numbers are skewed even higher for buyers in vacation and second home markets like Cape Cod.  While the Cape is relatively quiet in the off-season, buyers from all over the Northeast are looking at Cape listings from the comfort of their primary residence.
Detailed Neighborhood Information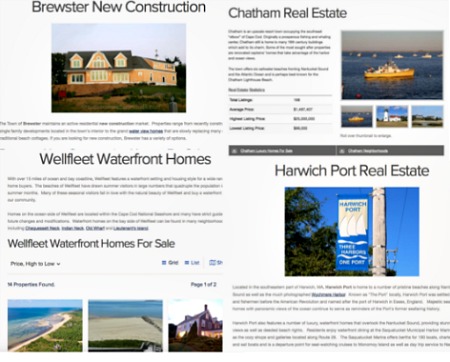 Sophisticated buyers of upscale Cape property demand the very best tools to narrow and focus their home search.  We have collectively exported our knowledge of Cape Cod neighborhoods, villages and towns to our website so that our clients can make informed decisions about their search from the comfort of their home. Our tools allow buyers to target and focus their search and ultimately find your neighborhood and your home.
Blogging and Social Networking Leadership
To prime the pump and draw more buyers to your listing, we will geo-target your neighborhood and house with focused blog and social networks posts including Facebook, Google+ and Twitter.  Our blog posts are popular and read, followed and even retweeted and shared by clients, other agents and even members of the press.
We take marketing a step further than just putting a listing up on a social media site…..we tailor our blogging and social activity to unique features of your property like the view, proximity to the beach, bamboo flooring or spa bathroom.  This subtle approach to property marketing draws in eyeballs rather than pushing them away.  We have made a science out of studying buyer habits and continually adapt our website and approach as buyers modify their approach to searching for property.
Responsive Website Design
Capecodneighborhoods.com utilizes a responsive design that automatically adapts based on the device and size of screen that is being used to view it.  Why is this important to you?  A significant amount of real estate search has moved from desktops and laptops to tablets and mobile phones.  Our site automatically adapts and looks great no matter what device is being used…… without squinting, pinching or unwieldy apps to download.  The buyer using their phone to look at property in your neighborhood will have a positive experience on our site and ultimately inquire about yours!