Feature Your Property
While any agent or brokerage can syndicate your property on the national portals and websites, your home is literally one of millions of homes currently displayed on these websites.  For additional targeted buyer exposure, a prominent display of your property on a geo-focused local website will dramatically increase your property's exposure with qualified Cape buyers.  Featuring your property listing "above the fold" in a headline position will deliver the best results.  One of our key advantages is the ability to attract hundreds of Cape Cod-focused buyers a day to view our premium listings including yours.
Get Featured "Above The Fold"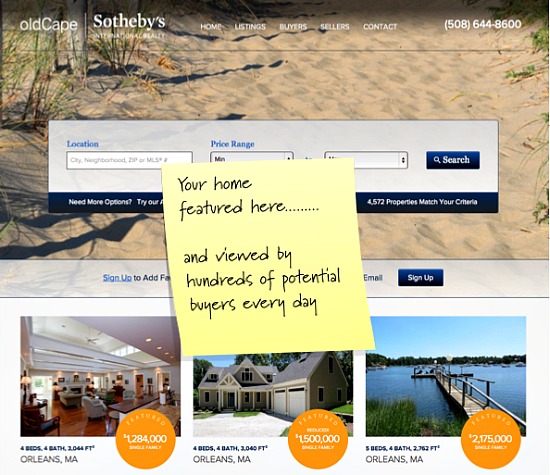 Our "featured properties" gallery is prominently positioned on our highly-visited homepage and serves as a digital magnet to attract and retain home buyers.  Our extensive overviews of Cape Cod neighborhoods draw in buyers across the Cape.  We make it easy for them to view your featured listing and focus their search for Cape Cod luxury property.
Our SEO Expertise Delivers More Buyers
It is no secret that most people searching on Google, Bing or other search engines usually pick a result on the first page and click through to it.  For this reason we devote significant resources to insuring that our website appears on the first page of the search engine results of thousands of Cape Cod real estate search terms.  We have in-house SEO expertise on our team to insure that your property ranks highly on the search engines for relevant terms.  We focus on ranking your neighborhood, beach, town and more near the top of the ranking so that no matter what relevant term is being searched for, your property will get visibility and exposure with qualified buyers.
Sophisticated Search Tools Accelerate the Sales Process

Another critical element of attracting qualified buyers to your listing is insuring that buyers have a positive experience on our website.  Is it easy to navigate from one neighborhood or town to the next?  Can I look at the neighborhood adjacent to the one I am interested in?  Are all the listings on the site active?  Our site addresses these capabilities and many more.  Buyers are able to fine-tune their search with an extensive roster of search elements and then save the search for daily updates.  When the updates come, they can tag their favorites for future reference and more.  Our intuitive mapping tool provides an effective way to visualize your desired property in relation to the beach, bike path, restaurants and more.