Cape Cod Fishing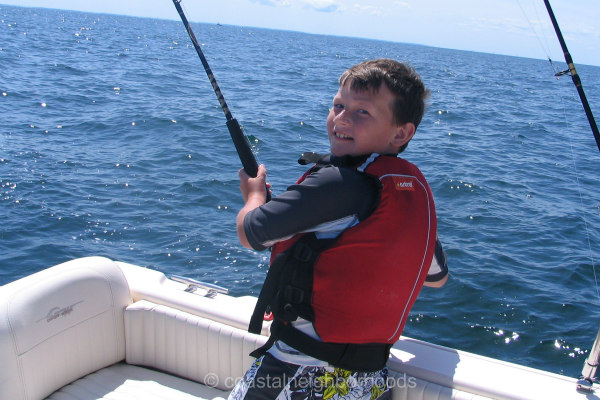 With its diverse marine life and picturesque coastline, Cape Cod draws anglers from around the world. Whether you're a seasoned fisherman or just eager to cast a line for the first time while enjoying the view, the Cape offers a number of fishing hotspots. Here are several favorites:
Nauset Beach — located along the Atlantic Ocean, Nauset Beach is perhaps best known for surfcasting. You can catch striped bass, bluefish, and other species while enjoying views of the Atlantic coastline.
Cape Cod Canal — this man-made canal connects Buzzards Bay to Cape Cod Bay and is renowned for its bluefish and striped bass.With its strong currents, the canal creates a feeding ground for these prized game fish, drawing fishing enthusiasts year-round.
Monomoy Island — located off Chatham, this barrier island features shallow flats ideal for fly-fishermen looking to catch striped bass, bluefish, and other fish.
Cliff Pond — situated in Nickerson State Park, Cliff Pond is one of the best spots for freshwater fishing April through October and is especially rich in trout species.
Higgins Pond — another pond located in Nickerson State Park, Higgins Pond boasts plentiful trout as well as the sought-after Tiger Trout. This trout species is distinguished by its orange hue and rich flavor.
Baker Pond — situated on the boarder of the Brewster and Orleans line, this pond is stocked with a variety of trout every year and is also a well-known enclave for bass.
Chatham Dump — also known as "Chatham Inshore Shoal," this popular fishing spot just off the coast of Chatham, is characterized by an underwater plateau. Its shelf-like structure attracts a wide variety of fish because of its close proximity to deep waters. Striped bass, Bluefish, Atlantic Cod, and Flounder are all in good supply here.
Billingsgate Shoals — the shoals comprise a sandy and shallow area located off the eastern coast of the Cape near Wellfleet and Eastham, providing both inshore and offshore fishing opportunities for striped bass, flounder, and bluefish.
Race Point — located at the northernmost tip of Cape Cod near Provincetown, Race Point marks the convergence of the waters of Cape Cod Bay and the Atlantic Ocean, creating a dynamic environment ideal for a variety of fish. Its strong currents attract large schools of striped bass as well as bluefish. Offshore tuna fishing is also popular with residents and visitors eager to pursue the thrill of landing a bluefin tuna.
Search Cape Cod Homes With Boat Docks