Yarmouth Riverwalk Plans Commence in 2023
Posted by Mark Washburn on Friday, September 17, 2021 at 5:21 PM
By Mark Washburn / September 17, 2021
Comment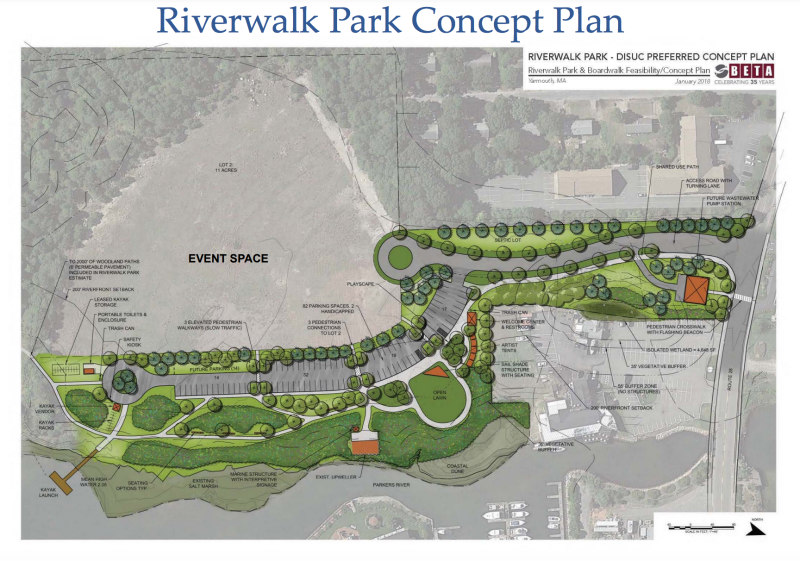 Plans for the new Yarmouth Riverwalk Park could commence as early as spring 2023. The design consists of a waterfront park, boardwalk and some occasion space where the old Yarmouth Drive-in on Route 28 once stood.
Located between West Yarmouth and South Yarmouth, the idea is to help re-energize Route 28 with a recreation destination. Initial designs provide for a landscaped path leading from Route 28 to a recreation area.
There would also be some walking trails, lawns, restrooms and a kayak launch in an area overlooking Parkers River. For some, it's been a long time coming.
It's now been more than three decades since the town originally approved purchasing the land for recreational use. Originally, the town had hoped to develop the property into a public/private marina.
When leaders realized the marina wouldn't be profitable, they abandoned the idea and began looking at a new use for the property. Coming up with a plan on how to proceed has already taken several additional years, and it could be another couple of years before we start to see the signs of progress.
Nearby neighbors were already successful in squashing a proposal to link up the park with Seagull Beach. They argued it would have disturbed their privacy and views.
The latest plans still keep with the original idea to retain the property for recreational use, but that's not all. Proponents also hope a new Yarmouth Riverwalk Park will help bring some new life to Route 28, while remaking the area into a true destination location.
In total, the park and boardwalk could end up costing more than $6 million. Some of that projected cost is being funded with state and federal grants.
Recently, selectmen awarded BETA Group with a more than $600,000 contract to design the boardwalk, riverwalk park and occasion space.