Wolcott Woods' New Chapter as a 55+ Luxury Community
Posted by Mark Washburn on Tuesday, June 1, 2021 at 10:46 PM
By Mark Washburn / June 1, 2021
Comment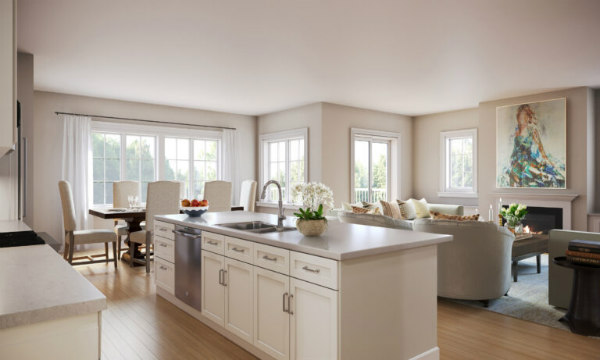 Buyers have a new option for luxury 55+ living in Milton. Wolcott Woods is a brand new community consisting of dozens of duplex-style and detached townhomes.
Priced starting above $1-million, the new townhomes come in four different floor plans. Each townhome includes two to three-bedrooms and 2.5-baths. In addition, the townhomes come with attached garages, large front porches and some admirable outdoor space.
The Adams floor plan is a detached townhome with two-bedrooms and around 2,500 square feet of living space. The Bradford floor plan is a duplex with two-bedrooms and nearly the same amount of living space.
The Draper floor plan is another duplex, but this one contains three-bedrooms and more than 2,600 square feet of living space. The Cushing is a duplex with three-bedrooms and more than 2,800 square feet of living space.
Wolcott Woods is being constructed in phases. Phase one of the project consists of ten new townhomes.
The development also consists of renovating three historic homes on the land. More than 50-percent of the entire project is being retained as open space.
This dedicated space will be used for walking paths and for a trail connecting up to neighboring Blue Hills Reservation. The reservation borders the new townhome community on two sides.
The new Wolcott Woods townhome development sits along Canton Avenue in Milton, just a few miles to the south of Woodmere. The land was originally owned by a merchant named Joshua Wolcott who used the land to construct a summer residence.
That home is one of the historic homes being remade into part of the new townhome development. The Devens House is being turned into a free-standing condo.
Crews have been busy updating the home's multiple fireplaces, replacing windows, painting and rewiring the home. They've also installed new HVAC systems in the home and put in new hardwood floors.