Winthrop Center Taking Shape
Posted by Mark Washburn on Wednesday, May 18, 2022 at 6:16 AM
By Mark Washburn / May 18, 2022
Comment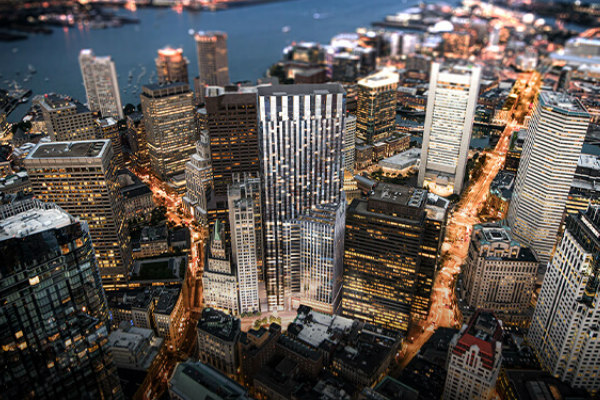 A new ultra-luxury tower in Boston's Financial District is beginning to take shape. When finished, the Residences at Winthrop Center will offer more than 300 high-end condominium homes topping lower-level office space.
The new, eco-friendly property is a venture of a real estate developer and some MIT professors. The idea behind it was to make a sustainable building that's truly forward-thinking in its design and its amenities.
The new, wellness-focused building offers sleek style points, combined with luxury amenities and functional space. Designed to appeal to those in search of a live/work lifestyle, future residents of Winthrop Center will have full access to an onsite office club called The Collective.
The property will also include a private wellness facility with a yoga studio, Pilates, an indoor swimming pool and treatment rooms. Other options include valet garage parking, 24-hour concierge service and common outdoor terraces.
As well, the property includes space for a screening room, an owner's lounge, a library, and a billiard parlor. Other options include an outdoor terrace, a bar, a private function room and even a playroom for its younger residents.
A planned Dog Wellness Center will provide doggie daycare, grooming services, and dog walking for the building's four-legged residents. Buyers at Winthrop Center have their choice of floorplans, starting with a one-bedroom unit.
There are also some two-bedroom, three-bedroom and even four-bedroom condos, some of which contain a library or den. As well, there are some penthouse units for buyers to choose from in the building.
While the energy efficient design of the project in one of its highlights, so is the location. The new development sits close to South Station for added convenience, plus it's not far from dining and entertainment options in Boston, either. The new Residences at Winthrop Center property is expected to be delivered to buyers sometime early next year.
Search Financial District Condo Developments