Where to Whale-Watching on Cape Cod
Posted by Mark Washburn on Wednesday, April 19, 2023 at 6:13:28 AM
By Mark Washburn / April 19, 2023
Comment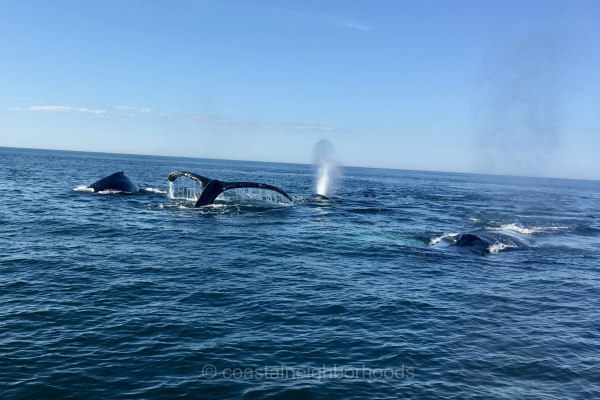 People often come to Cape Cod for its beaches, its small towns and its historic appeal, but there's also plenty to enjoy out on the water. Whale watching is especially popular, not only from the shore, but also from one of the local boat tours.
If you're hoping to spot whales while visiting Cape Cod, you'll probably want to head to either Barnstable or Provincetown. In terms of Provincetown, that's because it has a port that's close to Stellwagen Bank National Marine Sanctuary, which is a known summer feeding ground for whales.
Found just to the east of Boston, that's where many whale watching cruises travel to from Cape Cod, including those originating from Provincetown. Several boat tours operate out of Provincetown, including SeaSalt Charters, which offers private whale watching tours and fishing charters, plus Cape Tip'N Charter Fishing, which also provides private whale watches and fishing charters.
There's also Dolphin Fleet, which is popular for its Sunset Whale Watch during the summer months. Another option out of Provincetown is Beth Ann Charters, which leaves from Provincetown Harbor.
If you choose to stay on the shore, Race Point Beach in Provincetown sits on the tip of the peninsula, and you might be able to spot some whales out in the water. Be sure to bring some binoculars, or at least a camera with a good lens.
Barnstable is another town in which whale watching tours commonly originate. Hyannis Whale Watcher Cruises take off from Barnstable Harbor.
Keep in mind that Mid-April through October is commonly considered whale watching season, although you likely have the best shot at spotting them from June through September. By late October, most of the whales have started heading south for the winter.
Luckily, there are several different types of whales and other marine life found around Cape Cod. Starting at 25 feet for an adult, the minke whale is considered the smallest.
Search Cape Cod By Region