Where To Kayak In Wellfleet
Posted by Mark Washburn on Tuesday, December 9, 2014 at 9:26 AM
By Mark Washburn / December 9, 2014
Comment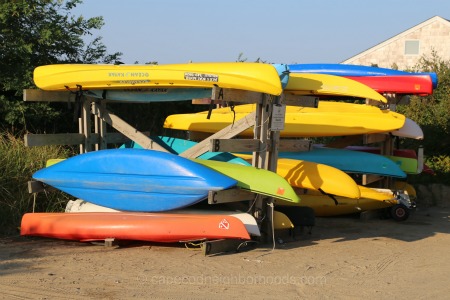 While most of us have pulled our kayaks off the beaches and landings of Cape Cod, I did see a lone kayaker navigating out in Wellfleet Harbor last Friday. Watching this solo paddler get in an early December workout was truly inspirational to say the least!
One of the best ways to experience the raw, natural beauty of the Cape is by kayak. Kayaking not only gives you access to areas that may be difficult to reach on foot but also provides a great workout while beating the heat. Wellfleet has an abundance of options whether you're looking for a relaxing paddle or a grand exploration. Here are a few local favorites:
Gull Pond
Gull Pond is the only Wellfleet pond with boat rentals and as Wellfleet's largest pond, provides lots of room for beginners and more advanced kayakers. Gull Pond has a wooden dock as well as restroom facilities and wide expanse of sand to stretch out on after your kayaking run. Kayakers typically follow "the Sluice" to the smaller Higgins Pond which connects to the even smaller Williams Pond by a "secret passageway."
Drummer Cove
For a gentle kayak destination in the Harbor, you can launch from the Wellfleet Pier, heading south to Drummer Cove. You'll be heading straight into the Harbor with Indian Neck Beach on your left. Head east (left) into Drummer Cove. At low tide, stay approximately 1/2 mile away from Indian Neck Beach so as not to disturb the different species of sea life along the beach. Just past the cove is Blackfish Creek, a tidal stream that at high tide can take you all the way to Route 6 (approximately 1 1/4 miles).
Duck Creek
Kayaking up Duck Creek is another relatively smooth paddle along the salt marsh that also starts from the Wellfleet Pier. You'll experience a bit of history as you cut through the water. In the 1800s, Duck Creek was one of the three busiest Wellfleet harbors. Paddling inland, you'll pass under the much-photographed Uncle Tim's bridge, rebuilt in 2008. You'll also pass the First Congregational Church Tower, whose bells continue to ring in ship's time.
Great Island
As mainland Cape Cod's most isolated coastline, Great Island is a more challenging kayak run. Great Island is technically no longer an island but rather a 6-mile barrier beach that separates Cape Cod Bay from Wellfleet Bay. This particular paddle is approximately 7 miles and takes you from Mayo Beach out of the Herring River Basin along the glacial bluffs of Great Island with a rest stop (and lunch!) at the southern tip. Glimpses of ospreys and other wild birds are not uncommon. Kayakers pushing all the way to Jeremy Point can turn this into a 10-mile run.
Explore Cape Cod Pond Neighborhoods