What Is A Kettle Pond?
Posted by Mark Washburn on Thursday, December 11, 2014 at 6:19 AM
By Mark Washburn / December 11, 2014
Comment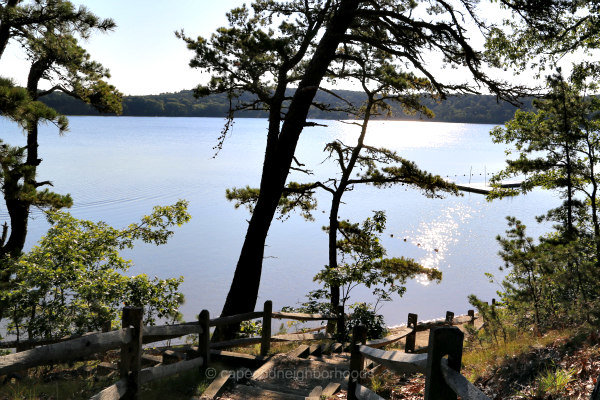 While the Cape Cod ocean beaches receive top billing, the Cape is also blessed with a 200+ freshwater "kettle" ponds scattered throughout the various communities. A dip in the cool, clear waters of a cherished pond is a favorite Cape Cod memory for residents and visitors alike. Henry David Thoreau famously visited the Wellfleet ponds in the mid-1800s, later remarking on them in "Cape Cod."
While the National Seashore identifies 20 official ponds scattered throughout the beach forests of Wellfleet and Truro, ponds are also an appealing part of the landscape in communities such as Brewster, Harwich, and Eastham. These unique kettles were formed as a product of the Ice Age some 15,000 years ago. As the glacier ice melted, it left behind massive holes or "kettles" that later filled with fresh water. Those kettle holes with a layer of clay beneath them collected water early on, filling up. Others only evolved into ponds when the freshwater table rose and the bottoms of the kettles intersected the rising water level. While many kettle ponds provide a freshwater alternative to the beach, salt ponds are also kettle ponds if they are connected directly to ocean waters. Some of the deeper freshwater ponds that are connected by active creeks or brooks to saltwater often serve as the final destination for herring runs. During the spring, thousands of these alewife fight uphill to their place of origin to lay their eggs and renew the cycle.
Scientists find the kettle ponds fascinating as pollen and the remains of living organisms trapped on the bottom layer of the ponds serves as a historic record of earlier climate patterns. Ponds are critical to many of the local communities as well as an overall barometer of the quality and purity of the drinking water. Many of the larger ponds are visible from main roads and feature beaches and full restroom facilities. There are also a number of smaller kettle ponds ponds that are "hidden" and can only be reached by a trek through the woods or via another body of water. The thrill of discovering these shimmering jewels and spending a day contemplating the trees and water away from the crowds is well worth the trip.