What is a Grist Mill?
Posted by Mark Washburn on Thursday, February 12, 2015 at 12:18 PM
By Mark Washburn / February 12, 2015
Comment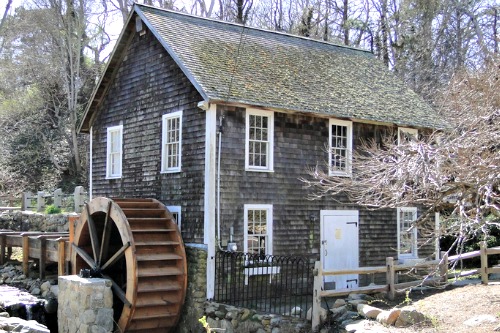 If you're looking for something unique to do some afternoon, why not head out to one of Brewster's best-kept secrets. The old Stony Brook Grist Mill and Museum is a great place to take a family. Not only is it a peaceful location to visit, but it also gives you the opportunity to enjoy the natural surroundings.
So, what exactly is a grist mill? If you ask a few people you'll likely get a few answers, or perhaps a few questioning looks. A grist mill is something that grinds grain into flour. It may be referring to the building or the actual mechanism that does the grinding.
The idea's been around for thousands of years. In fact, in ancient years these early mills were found in places like Scandinavia. Since water was used to turn the paddle wheels, you would usually find them in mountainous areas with flowing streams. How quickly the water flowed determined the speed of the wheels. In other parts of the world, grist mills were powered by not only water, but also by wind.
Historically, though, a grist mill was a local mill in which a farmer brought in grain, and then took home ground flour or meal. Most villages and towns had one and the Town of Brewster was no different. In the late 1800's, the mill used water to power its wheel and grind corn.
These days, visitors to the old grist mill in Brewster can purchase freshly-ground souvenir cornmeal. An upstairs museum gives visitors a close look at artifacts from the 1800's as well as features weaving demonstrations with its antique loom. You'll find a number of photographs and other signage depicting Brewster's rich maritime history, as well as the industrial development in the region.
To find the Stony Brook Grist Mill, when you get to the intersection of Route 124 and 6A, you'll take 6A east for about a mile. Then, take a left on Setucket Road. You'll see the mill about a mile and a half down the road off to the right. Be sure and call before you go, though, because the grist mill is only open during certain times of the year, and during limited hours. Even if you can't make it out when the mill is open, you should still be able to tour the grounds. You'll find some trails, along with a lake to walk around. If you're lucky, you may be able to catch the herring swimming upstream.