Wellfleet Drive-In is a Cape Cod Institution
Posted by Mark Washburn on Monday, April 27, 2015 at 8:14 PM
By Mark Washburn / April 27, 2015
Comment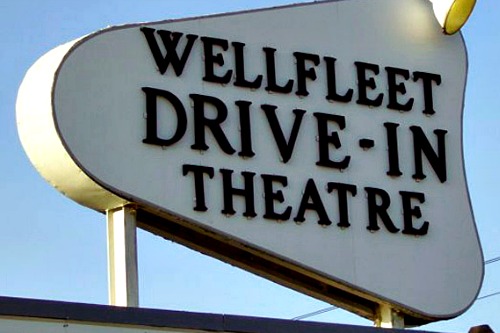 Remember the old days when there weren't huge mega-plex movie theatre around with reclining seats and wraparound screens? In a day and age where bigger and better always seems to get all the attention, the Wellfleet Drive-In Theatre is a true blast to the past. It's also an institution of sorts for both residents and frequent visitors to the Cape Cod region.

The drive-in theatre is the only one of its kind on Cape Cod, and people have flocked to the location each summer for generations. In fact, for many people in the Cape Cod region, the Wellfleet Drive-In officially marks the start of the summer season each May when it opens its gates. You can probably ask just about anyone who's lived in Wellfleet for a while, or ask frequent visitors a story about their time at the drive-in, and you'll hear quite a tale!

Originally constructed in 1957, the drive-in includes a large screen, along with a snack bar and playground for the kids. As for the actual theatre, it shows first-run double features. The complex also includes a flea market, mini-golf course and dairy bar. Along with the outdoor screen, there's also an indoor cinema screen showing movies.

If you want to visit the drive-in, you need to know it is only open from around late May to mid September. The box office opens at 6:30 pm, rain or shine. You also need to know that the theatre only takes cash for tickets, but you can use a credit card at the concession stand if you want.

Other things to keep in mind include leaving your barbeques, scooters, bicycles, roller blades and skateboards at home. You can't operate any of them inside the grounds of the theatre. You can, however, bring your lawn chairs.

You also need to make sure you park in the right location. The drive-in has a designated area for oversize vehicles, and this includes things like sport utility vehicles, minivans, pickup trucks and full-size vans. Campers must be parked in the back row. If you want to get a good spot, though, be sure to get there early.

The Wellfleet Drive-In posts its upcoming schedule on its website ahead of time, so you should have plenty of time to plan ahead for your next movie date. You'll find the drive-in located in Wellfleet along Route 6, close to the Wellfleet Bay Wildlife Sanctuary.