Wellfleet Artisan Market
Posted by Mark Washburn on Monday, July 27, 2015 at 6:23 PM
By Mark Washburn / July 27, 2015
Comment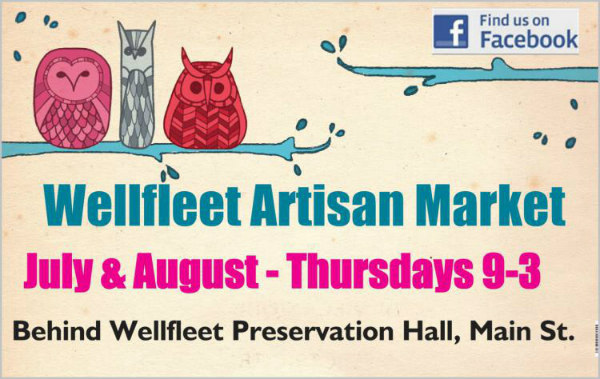 If you want to decorate your home with handcrafted artwork made by local artists from Cape Cod, be sure not to miss out on the annual Wellfleet Artisan Market. This fantastic market offers locals and visitors the opportunity to browse through the handcrafted work of local vendors each summer season.

The Wellfleet Artisan Market is the perfect place to pick up a one of a kind gift for someone back home or to pick up your own souvenir, marking your summer vacation along the Cape. Because the market is a weekly event, you can find some new vendors at the market each week, along with some who stay all summer long. It only lasts for eight weeks, though, so if you are planning on going you won't want to put off the trip for long.

From homemade purses to custom-made jewelry and more, you will find plenty of options to purchase while shopping the various booths at the Wellfleet Artisan Market. Because all of the items on display have to be handcrafted you won't find the typical mass production of gifts at this market. If you are truly looking for something unique for yourself or for others, this is a great place to go. The market is open to local designers, handcrafters and artists, part of an effort to promote locally made items, and encourage locals to shop at home.

Past vendors have included jewelers, incorporating stones from the shores of Cape Cod beaches, as well as those selling handbags, bath salts, hand carvings and more. You will also likely find photography for sale, as well as pottery, products made especially for kids, as well as some textiles.

The market is held on Tuesdays outside Wellfleet Preservation Hall. The hall, itself, holds a special place in the heart of locals. Formerly a church, the building now dedicates itself to showcasing the artwork and creativity of local artisans in a variety of ways. In fact, the Wellfleet Artisan Market is just one of the many cultural and artistic events held at the location on a regular basis.

Located right along Main Street, the Wellfleet Artisan Market is open every Tuesday of July and August from 9a-4pm. It does not cost anything to shop at the market, plus parking is free, too. Keep in mind, though, the event goes on regardless of whether the forecast includes sunshine or rain, so be sure and dress accordingly.