Weir Fishing on Cape Cod
Posted by Mark Washburn on Monday, January 2, 2017 at 11:52 AM
By Mark Washburn / January 2, 2017
Comment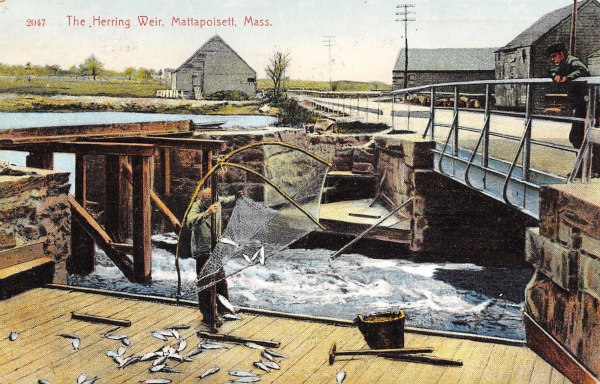 A popular form of fishing on Cape Cod for centuries, weirs are still in operation today, much as they were generations ago by Native Americans, used to harvest migrating fish. While the early weirs were constructed out of thin wooden sticks that made them susceptible to high winds and a strong tide, the weirs of today are more commonly "fish traps", with netting strung from poles that are pounded in the sand.

Weirs trap the fish trying to swim back out into deeper water. With fishermen from two boats hard at work, the crews scoop out the fish for sale at market. The use of weirs jumped in popularity during the early to mid 1800s but they are much more limited today. The fish population has declined, blamed on an abundance of seals and on more advanced fishing techniques.

It's an arduous task, as the fishermen have to start checking their nets each morning, no matter the weather or the tide. It's often a practice that starts quite early too, and involves several checks throughout the day. The fishermen typically start up in April and end in December.

These days sea bass, butterfish, squid and sometimes scup are fished in this manner, though the practice is limited. Even so, the quality of fish caught up in the traps makes it all worthwhile for the fishermen who have to put out the nets and poles, then remove them again, each season.

Despite a more limited amount of weir fishermen in operation as of late, there are efforts to save some of the history. Locals and the Truro Conservation Trust have about another year to come up with money to preserve 10 acres of land located on Pond Road from future development. The empty land was once used as a twine field where weir fishermen brought out their nets to make repairs and keep them from rotting when they weren't being used. The Town of Chatham successfully preserved several acres of its own twine field property in recent years, and proponents in North Truro hope to do the same by keeping the property as it has stood for decades.