Walking Across the Provincetown Causeway
Posted by Mark Washburn on Friday, October 15, 2021 at 1:33 PM
By Mark Washburn / October 15, 2021
Comment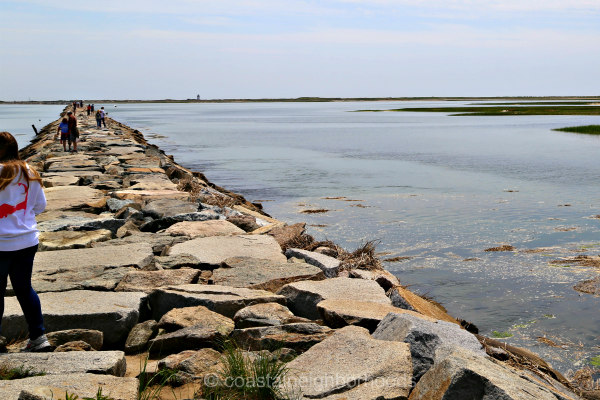 You probably already know about some of Cape Cod's most scenic spots and historic attractions, but there's one particular place some call one of the Cape's best secrets of all. The walk across Provincetown Causeway not only delivers some fantastic views, but it also leads to some of Cape Cod's favorite destinations.
The causeway stretches out across the bay before ending on a mostly secluded stretch of sand. While the Provincetown Causeway is more than a mile long, it's not exactly an easy walk.
During high tide, the causeway is partially underwater. Even when the rocks aren't submerged, they do tend to get a bit slippery. You also won't find any shade in the area either, so come prepared.
Along with getting in a bit of exercise, the causeway delivers views of Provincetown you won't necessarily get from other locations. You can see the entire harbor, along with lighthouses, marshes and beaches.
As you cross over, keep an eye out for oysters and clams close to the shore, and even starfish and hermit crabs hiding between some of the rocks. You may also spot some seals out in the water.
After passing over, if you continue your hike to the northwest, you'll reach Wood End Lighthouse and its surrounding beach. If time is on your side, you can continue on to Herring Cove Beach. This eventually puts you within walking distance of Downtown Provincetown.
If you choose to head to the northeast, you'll eventually reach Long Point Beach and Long Point Light Station. If you want, you can catch a shuttle back to Provincetown from the beach so you don't have to hike back across the causeway. It's cash-only for the boat shuttle.
When you do go, keep in mind, while there is some street parking at the causeway, it is a bit limited. You can also try parking on Commercial Street in the West End Parking Lot.