Tower Project Unlocks Access to West Station
Posted by Mark Washburn on Monday, September 21, 2020 at 11:04 AM
By Mark Washburn / September 21, 2020
Comment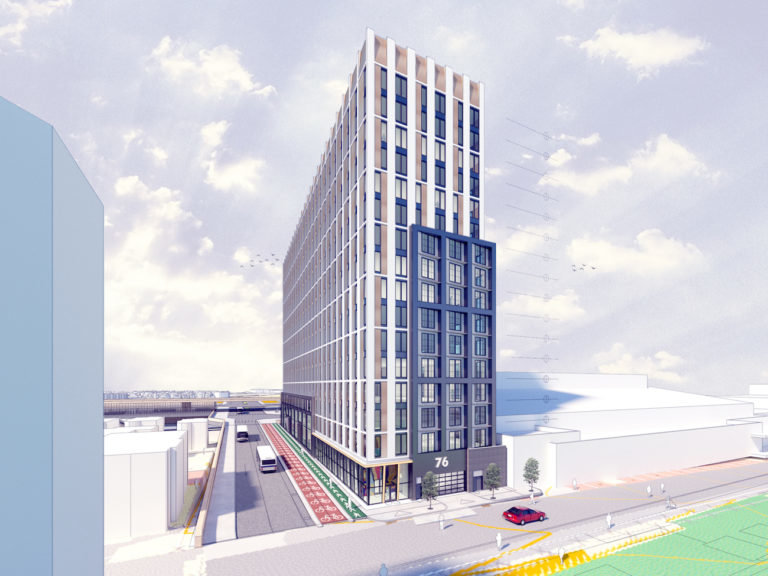 Embarc, courtesy of City Realty
Plans for a new residential tower in Allston could be the key to unlocking future access to West Station. Current plans call for a new 16-story tower with a lobby, bicycle storage, outdoor balconies and dozens of parking spaces to be built on Ashford Street.
The tower may also include a fitness center, pet facilities, outdoor common space and remote working space. The proposal could mean even more for Allston, however, than just another new tower.
The designated property is currently home to an industrial building and sits just adjacent to the Track and Tennis Center at Boston University. The company behind the proposal hopes to use the property in question as a "gateway" of sorts to the multimodal station the state hopes to build nearby in a former railyard.
Under the plan, the new tower would not only revitalize an industrial lot and bring new residential rentals to the area, but also give a push to the state's plans for eventually constructing a West Station close to the site. City Realty wants to reserve some of the land as a station access point. It also wants the land to be used for connections to the Charles River and to development in the area of Beacon Yards.
Plans haven't been released just yet on what such a massive project could means for existing infrastructure in the area. The state would have to rework a highway, Soldiers Field Road, plus several rail lines and pathways in between Boston University and the Charles River.
Late last year, the Boston Planning and Development Agency approved hundreds of residential units and more retail space as part of Allston Square. That project sits about a half-mile away from the planned tower on Ashford Street.
Development is booming in Allston. Over the next several years, thousands of new residential units and a large amount of new office and lab space is already planned for the area.
Search Allston Condo Developments