Tips for Beating the Cape Cod Traffic
Posted by Mark Washburn on Friday, July 3, 2015 at 11:06 AM
By Mark Washburn / July 3, 2015
Comment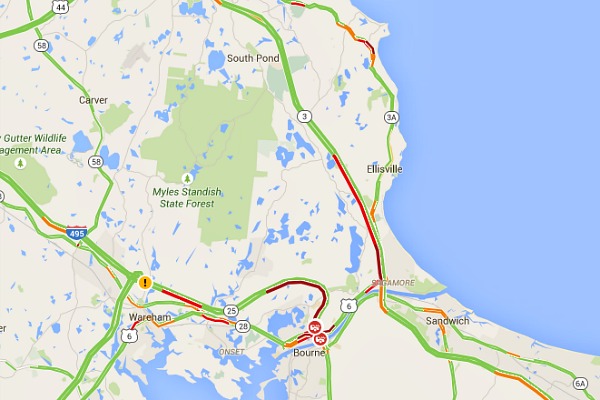 There's nothing like spending your summer vacation on Cape Cod. Of course, the popularity of the region is notorious for bringing an unwelcome visitor: traffic! If sitting in bumper-to-bumper traffic isn't your idea of the perfect vacation, we have some tips on beating the crowd.

One of the main contributors to Cape Cod traffic is the location of the region. Cape Cod is actually an island, and you haven't been able to get there without going over water since around 1917. That's the time when the Cape Cod Canal was finished. The canal split the Cape from southeastern Massachusetts. It also gave ships a way to pass from the south to the north.

What this means for drivers is that there are only two bridges for traffic into the Cape, the Bourne Bridge on the western side and the Sagamore Bridge on the eastern side. The limit of having just two bridges is that traffic backs up. Although the problem was alleviated a little a few years ago, there is still somewhat of a traffic jam, especially on Friday evenings during the summer.

If you're headed to the Cape for the weekend, try and hit the road before 2pm on Friday. If you wait just an hour or two after that, its guaranteed you'll sit in traffic. If you must drive, and you cannot leave by then, it is best to wait until about 9pm before you start driving if you don't want to sit in traffic. The best times of all to drive to the Cape, though, are actually Sundays through Thursdays.

Another tip if you want to avoid traffic is to take the train in. The Cape Flyer goes from South Station to Hyannis on Friday evenings all summer long. It takes about two-and-a-half hours, plus kids younger than age 12 ride for free. You can also take a Boston Harbor Cruise from Boston to Provincetown, or hop in a water taxi.

While some people try and leave the Cape early Sunday morning to beat the crowd on the road home, you likely won't be the only one and will still get stuck in traffic again. The same can be said about leaving early Monday morning. Traffic is backed up then even by 7am.

Keep in mind, though, traffic backups going in and out of Cape Cod aren't always easy to predict. Sometimes there's no real reason why there's so much traffic. In other words, give yourself plenty of time.