Time for a Cape Cod Lobster
Posted by Mark Washburn on Wednesday, June 17, 2015 at 3:20 PM
By Mark Washburn / June 17, 2015
Comment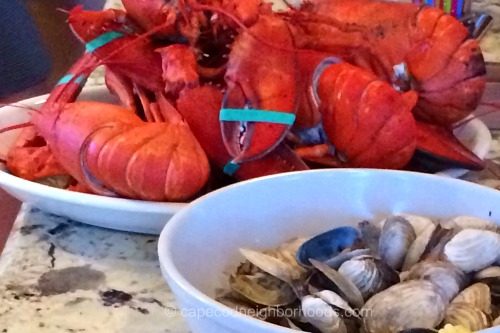 When you're on the Cape, you want to indulge in all of the local delicacies. This includes, of course, making time for a delicious Cape Cod Lobster. Before you order, though, you need to know what to expect.

The first question you may be asked when ordering lobster is whether you want a hard shell or a shedder. A hard shell lobster is tough to break but its meat is full of flavor. On the other hand, if you want a softer shell, go for a shedder. The meat is sweet, but you usually won't get as much. Another good tip is to order a female lobster if you like a lot of tail meat.

If you get to pick out your own lobster, choose one that's moving around a lot and is bright in color with shiny eyes. You want to choose the one that looks the healthiest.

The only question left now is where to eat? Luckily, we have quite a few great lobster shacks to recommend.

Chatham Pier Fish Market

When in Chatham, consider taste-testing your way through the Chatham Pier Fish Market. This award-winning location serves up some of the freshest lobster around. Expect to find every kind of lobster concoction you can dream up, from lobster bisque to lobster sushi and lobster roll. Whether you want a sit-down meal or to grab some seafood to go, the Chatham Pier Fish Market is one place you don't want to miss.

Arnold's Restaurant

Our next stop is Eastham, home of Arnold's Restaurant. Don't let the name fool you, this lobster and clam bar has been at the top of the list for family dining for decades. Expect to find steamed lobsters, lobster rolls and fried fish here. You can even take in 18-holes of mini golf, plus grab dessert from Richard's Dairy Farm. After dark Arnold's Restaurant becomes a prime location for its raw bar and cocktails.

Moby Dick's

Last, but certainly not least, head over to Moby Dick's in Wellfleet. This is the place to go for local, fresh seafood including Wellfleet oysters, Chatham scallops and Atlantic cod. This casual dining hotspot also includes a gluten-free menu, in addition to selections made especially for kids.

There are, of course, plenty of other great restaurants with fresh lobster on the menu all over the Cape. No matter which location you choose, you are sure to have a great time and a great meal!