The Venerable Nickerson Family of Chatham
Posted by Mark Washburn on Friday, December 11, 2020 at 12:56 PM
By Mark Washburn / December 11, 2020
Comment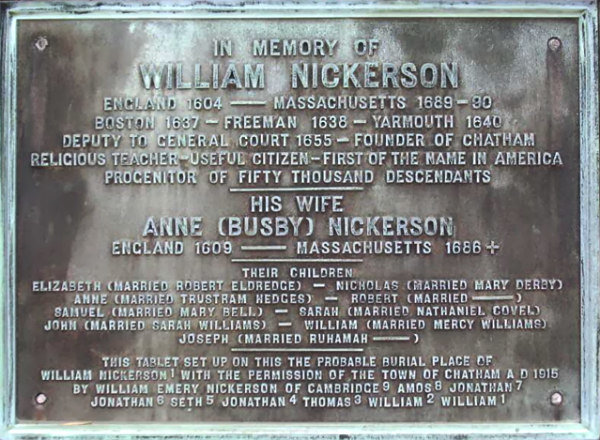 Traced back to the beginning of Chatham, the Nickerson family still retains strong ties to the region. This dates all the way back to the times of William Nickerson, who's considered to be the founder of Chatham.
Earlier this year, the owner of a home believed to have built by the son of William Nickerson in the 1700s was donated to the Nickerson Family Association. It's thought to be the oldest house in Chatham, and the donation helps spare it from demolition.
Plans called for moving the one-room house to the Nickerson Family Association campus. The Association is hoping to use grant money and other funds to move and restore the oldest portion of the home.
A larger structure was reportedly built around it in the early 1800s but isn't part of the original structure. The cost of moving and restoring it could top $100,000.
The idea, though, it to eventually bring it back to life and possibly even open it to the public. That's not currently possible because the home sits on private property.
The Nickerson Family Association campus is already home to other historic buildings including the Caleb Nickerson homestead. This home dates back to the late 1820s but was moved to the Association's property in the early 2000s.
It's now a working museum, depicting Cape Cod life in the early 19th century. The home includes a Colonial garden, period woodwork and a beehive oven. It's been redecorated to make it look like it may have appeared in the 1820s.
The Nickerson Family Association is one of Cape Cod's oldest non-profits. The Association maintains the family's genealogical records dating back to the 1600s.
It's thought that most of the Nickersons in North America are all related to those originating in Chatham. For more than 100 years, the family's held a reunion each September in Chatham.