The Story Behind the Shining Sea Bikeway in Falmouth
Posted by Mark Washburn on Monday, May 11, 2020 at 12:49 PM
By Mark Washburn / May 11, 2020
Comment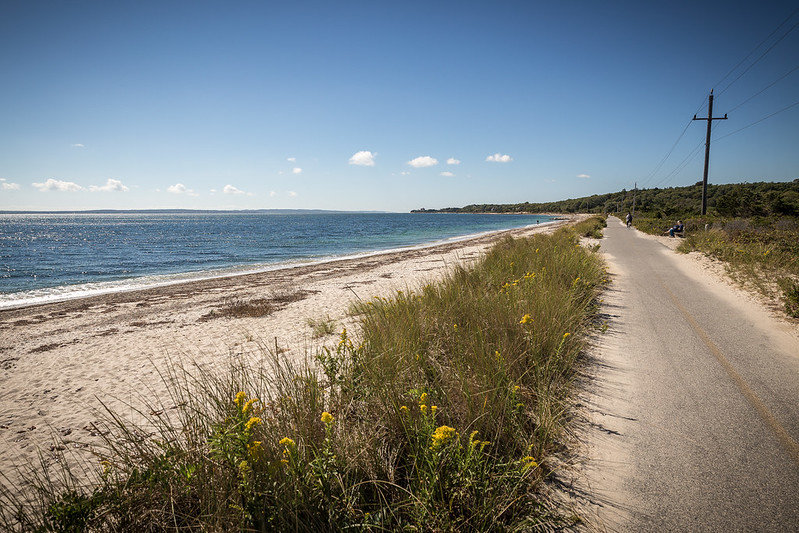 Photo: Mattia Panciroli
Stretching nearly 11 miles from start to finish, the Shining Sea Bikeway in Falmouth is much more than just a place to get in some outdoor recreation. While it's certainly a popular spot for running, biking, walking and rollerblading, the bikeway is also a great place to take in some hidden views of Cape Cod.
The Shining Sea Bikeway winds through four Falmouth Villages from North Falmouth to West Falmouth, Falmouth Village to Woods Hole. Along the way, bikers, walkers, runners and more are treated to some of Cape's most scenic beaches, forests, harbors and salt marshes.
The Shining Sea Bikeway gains its namesake in honor of a line penned in the song "America the Beautiful". It was written by Katharine Lee Bates, who just happens to be a Falmouth native.
As one of America's first 500 rail trails, the Shining Sea Bikeway was built on the original route of the old New York, New Haven and Hartford Railroad. The rail-line provided service back and forth to the Cape for nearly a century, but eventually closed down. Local residents then helped spearhead an effort to build a rail-trail along the route. The Town of Falmouth purchased the right of way in the 1970s and tore up the old tracks. The bikeway then officially opened in the mid 1970s. Thanks to a federal grant, about a decade ago crews added on a new section to the bikeway, extending it on to North Falmouth. These days, the multi-use trail is a paved, 10.7-mile trail extending from North Falmouth to Woods Hole. Because it's the only bike path on the Cape that runs alongside the seashore, it's likely you'll enjoy plenty of wildlife along the way. It's common to spot things like turtles, deer, foxes, ospreys and great blue herons, especially during the early morning hours of the summer season.