The Singular Beauty of Amrita Island
Posted by Mark Washburn on Monday, November 15, 2021 at 3:41 PM
By Mark Washburn / November 15, 2021
Comment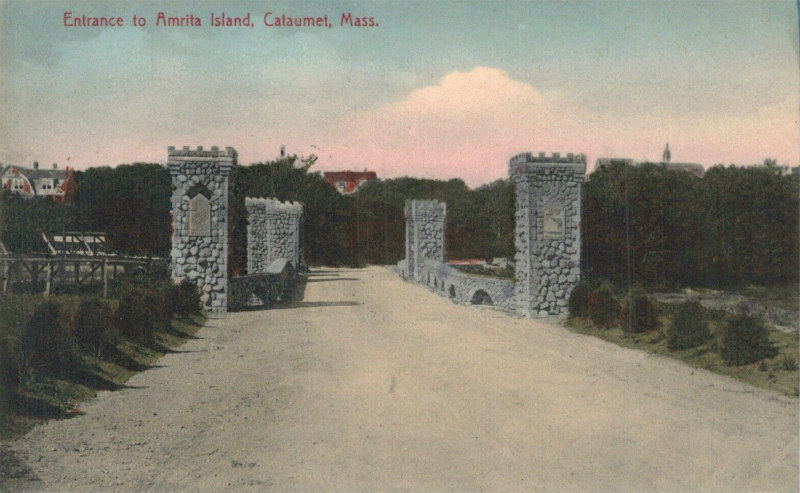 It may not be easy to find Amrita Island, but its singular beauty is hard to surpass. While officially closed to the public, Amrita Island is considered to be one of Bourne's hidden jewels.
Tiny in size, not many visitors know a lot about Amrita Island. In fact, it's easy to miss, as only a small sign marks a road leading to the island.
To reach Amrita Island, you take a private road and pass over a bridge flanked by medieval castle towers. If you look closely, you may still be able to read some of the inscriptions on the towers, including the island's name, the date 1893 and the name Baxendale, in reference to the former owners.
The island was originally purchased in the late 1800s by a wealthy businessman to use as a summer residence. He also gave the island its name, which some say translates to immortality, but is also the mythological name for nectar of the gods.
The owners didn't just want the island as their own personal getaway. They brought in scholars and built some cottages for visiting professors to stay on the island and deliver lectures.
Animal welfare was something they deemed especially important. The Baxendales were known to donate generously to causes related to animal rescues.
When the owners passed away, they left the island to Harvard University. In turn, Harvard then donated the island to the Animal Rescue League of Boston.
For a time, the island was known to host a summer camp for kids. Because the island is not open to the public, the best way for most to see it is from the water.
It's possible to see the old home, the mausoleum and the bridge without stepping on the island, itself. You can launch a paddleboard, sailboat or kayak from Squeteague Harbor Beach in the Cataumet neighborhood of Bourne.