The Monomoy Regional High School Delivers Academic Excellence
Posted by Mark Washburn on Friday, March 27, 2015 at 6:15 PM
By Mark Washburn / March 27, 2015
Comment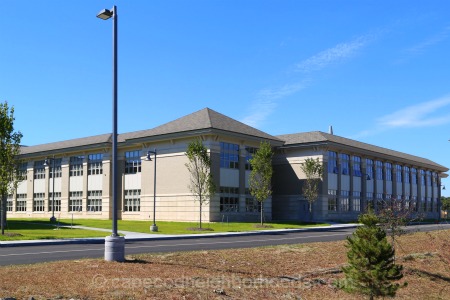 Everyone knows that an important part of buying real estate has to do with location. Not only in terms of choosing a scenic location for your home, but also a location that fits your wants and your needs. This rings especially true when it comes to nearby restaurants, entertainment, and most certainly education.

For homebuyers with children living in Harwich and Chatham, this means access to one of the area's most recognizable and celebrated public schools. The Monomoy Regional High School, serves around 750 high school aged kids living within the two towns.
Located in Harwich, the building is almost brand new. Originally proposed for construction in 2012, the new high school was finished in early 2014, and opened to its first students in September of 2014. The school replaced the former building, Harwich High School, which once stood at the site but has since been demolished.

The new and improved high school is around 168,000 square feet in size, and reportedly designed with energy efficiency in mind. The building includes LED lighting plus daylight dimming controls in the classrooms, as well as improved filtration and including energy efficient appliances. It also is designed to exist more efficiently, from the roofing materials to the landscaping that surrounds it.

Other additions to the new building include an athletic stadium with artificial turf and new practice fields near the building's front entrance. The blue, decorative tile within the building is made to resemble the water, while other features appear to be designed with wave patterns in mind. The new school's mascot also takes its cue from the surrounding community, too. Named the "Sharks", the school colors are navy blue and silver.

As for educational options, Monomoy Regional School offers students access to 17 Advanced Placement classes, as well as Spanish, French, Latin and even Mandarin language classes. Other courses available capitalize on such topics as poetry, 20th Century American music, the Kennedy family and even the sport of baseball.

The new high school is part of the larger, Monomoy Regional School District. The district also includes Monomoy Regional Middle School, Harwich Elementary School and Chatham Elementary School. The high school includes 8th grade through 12th grade. The middle school includes 5th grade through 7th grade, and the elementary schools cater towards the younger students and grades.

You'll find Monomoy Regional High School located along Oak Street in Harwich.