The Iconic Salt and Pepper Bridge
Posted by Mark Washburn on Sunday, April 16, 2023 at 9:13:02 PM
By Mark Washburn / April 16, 2023
Comment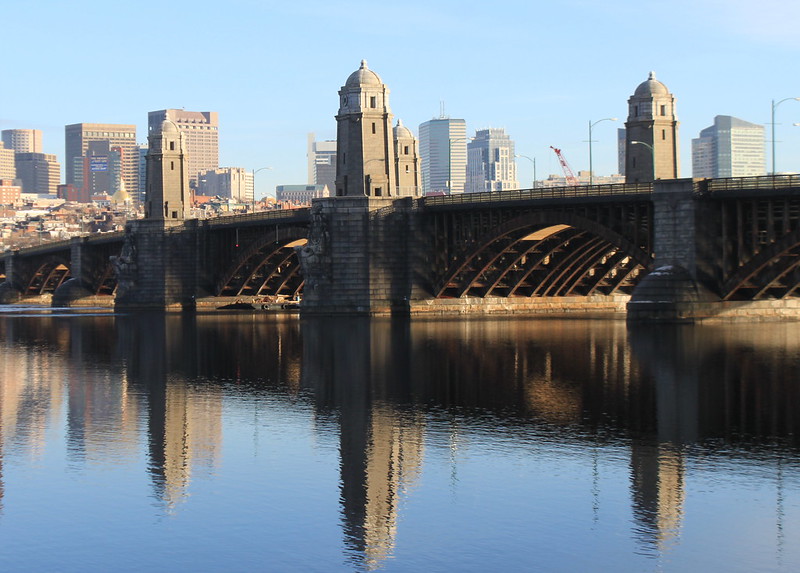 Photo: Victoria Welch
While officially called the Longfellow Bridge today, the iconic bridge over the Charles River has also been called the West Boston Bridge, the Cambridge Bridge, and more descriptively, the Salt and Pepper Bridge.
That's thanks to its distinguishing towers, which some believe highly resemble oversized salt and pepper shakers. Each of the towers is made up of more than 500 granite stones.
Originally constructed in the late 1700s, the bridge was rebuilt in the mid 1800s, and then again in the early 1900s. In the beginning, it was known as the very first fixed bridge to span the river.
The bridge credits its current name to Hendry Wadsworth Longfellow, a late Cambridge poet. It's said Longfellow used to walk across the bridge to court the woman he would eventually marry, an even once wrote a poem about the bridge itself. Today, some of the stone walls on the Boston side of the bridge contain quotes from his poem.
The bridge towers contain carvings of both the Cambridge and Boston city seals, some sea creatures, and some Viking ships. It's thought that's a nod to famed Viking Leif Erikson, who likely once landed in Boston.
In more recent years, crews finished a years-long restoration project on the famous bridge. They carefully disassembled the four bridge towers, then cleaned up the stones and put them back in place again.
It's said the work was to help stabilize the bridge for the next century. The price for the most recent restoration project was formerly estimated at least $255 million. It was just one part of the state's larger accelerated bridge repair program.
Now considered a symbol of sorts for the city, the bridge features a neoclassical design with ornamental features. It's been a part of the National Register of Historic Places for decades.
Of course, apart from its architecture, the bridge also has a much more practical purpose. These days, it's used by the MBTA Red Line, as well as thousands of pedestrians, bicycles, and vehicles on a daily basis.
Search Boston Neighborhoods