The History of the Sandwich Boardwalk
Posted by Mark Washburn on Friday, April 24, 2020 at 4:46 PM
By Mark Washburn / April 24, 2020
Comment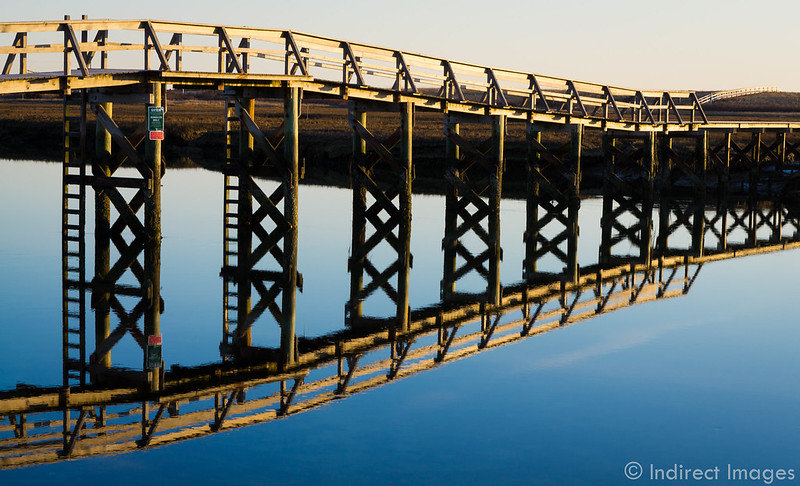 Photo: Indirect Images
The oldest town on Cape Cod has quite a history, and some do some of its treasurers. Considered one of the most unique local attractions, Sandwich Boardwalk offers up scenic views, while leading visitors out across Mill Creek and the marsh, and onto the beach.
National Geographic considers it one of the "Top 10 Boardwalks in America" and its recognized by the National Register of Historic Places. It's main purpose is to give beachgoers a way to cut through the marsh and safely reach Cape Cod Bay.
Originally constructed in the late 1800s for around $500, the Sandwich Boardwalk was designed at the time as a safer way to access the beach. The footbridge stretches more than 1,300 feet from beginning to end.
Since that time the long, wooden boardwalk has been rebuilt several times, including in the early 1990s when it was destroyed by a hurricane. Supporters later sold personalized planks to help construct a new boardwalk, which was completed shortly afterwards.
Just a few years ago, another storm took its toll on the boardwalk, this time a blizzard. Two years ago, local leaders authorized some temporary repairs.
Those temporary repairs, however, may not last for long. That's why some are looking at completely rebuilding the elevated boardwalk in the future, with hopes of making it stand up better to future storms and rising sea levels.
While more expensive than temporary repairs, it's hoped a redesigned boardwalk could last for decades instead of just years and make more sense in the long run. A new design could mean using wood or incorporating some metal into its design.
Earlier this year local Sandwich leaders got a look at possible designs, including the addition of safety railings, a wider walkway and more accessibility. The newly proposed design also sits higher than the existing boardwalk.