The Ever-Growing Community of Cape Cod Seals
Posted by Mark Washburn on Sunday, February 8, 2015 at 11:39 AM
By Mark Washburn / February 8, 2015
Comment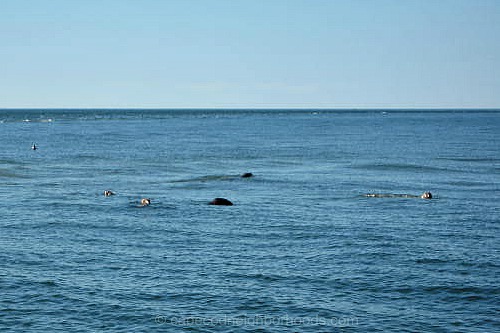 Every year, tourists and area residents flock to see just one thing in Cape Cod. It isn't the beaches, the bike trails or even the area restaurants, but rather the seals. In fact, over recent years, the population of seals in Cape Cod has continued to increase substantially. While people used to simply notice the seals in the 1980's, they're almost impossible to miss now.

While some believe there are between 3,000 and 5,000 seals in the Cape Cod region, there are no definite numbers. The National Marine Fisheries Service estimated a couple of years ago there were around 16,000 seals. Some experts project that number will continue to grow every year.

For people who want to get a great picture, or go on a special tour, that's great news. It almost guarantees you'll see seals on your trip. Unfortunately, though, the ever-growing community of Cape Cod seals brings with it some not so pleasant news. More seals mean more sharks. The great white shark, in particular, loves to feast on gray seals.

Another issue with an abundance of seals is that seals eat fish. Those same fish are also highly desired by local restaurants and fisherman. There are reports that as the seal population exploded, the fish stock, in turn, dwindled. Male seals can grow up to 800 pounds and it takes a lot of fish to fill them up.

Reportedly, the largest breeding ground for gray seals in the Cape Cod region is Muskeget Island. The large herds in the area are due to the Marine Mammal Protection Act of 1972. Part of this act made it a federal crime to kill the seals. Before this time it was common for seal hunters to come in and thin the population to help protect the fishing stocks. In fact, the state actually once paid a bounty to hunters for killing the seals. Now days, people aren't allowed to get within 150 feet of a seal.

While people argue about what needs to be done, if anything, about the large population of seals, those who want to see them in Cape Cod continue to be in luck. The best time of year to spot seals in Cape Cod is between November and April. If you don't want to take a special seal cruise, some of the best places to find them are during low tide in spots like Chatham, Truro and Wellfleet.