The Coolest Alleyway in Town
Posted by Mark Washburn on Friday, November 5, 2021 at 8:23 AM
By Mark Washburn / November 5, 2021
Comment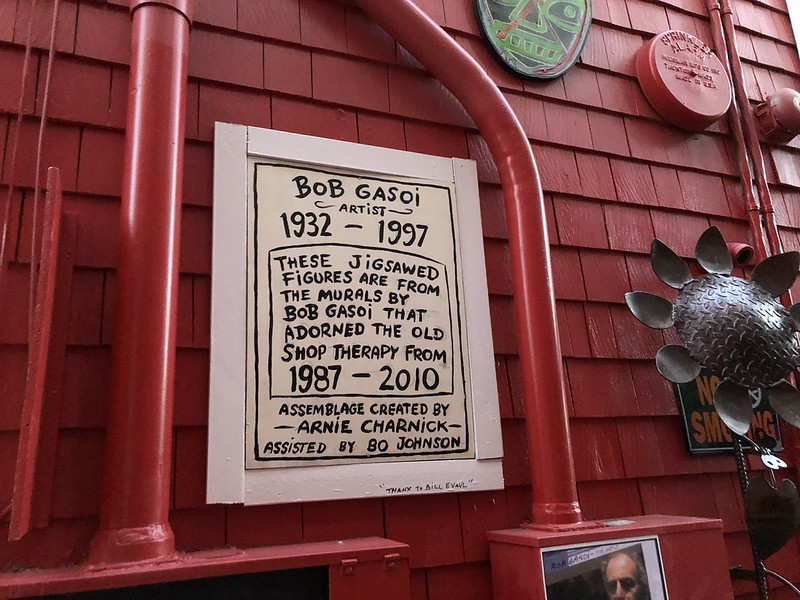 Photo: Todd Van Hoosear
Cape Cod is full of history and interesting spots to visit, but if you want to see the coolest alleyway in town, make plans to head to Provincetown. To find it, head to the downtown area and Commercial Street.
A nearby alley is filled with quirky artwork, and if you love modern art, it's definitely worth a visit. Every bit of the alley is filled with original artwork.
The alley takes up the exterior wall of Shop Therapy, stretching nearly three shop lengths. It isn't terribly wide, but it is big enough for a couple of people to walk down the alley at the same time.
Wooden books depicting illustrations of Alice in Wonderland are found on one side, along with wire bugs and metal flowers coming out of the ground. The other side features pictures on pieces of wood.
Some of the artwork is a bit provocative and made to capture your attention. The art installation is truly an alley, but it's officially referred to as the Bob Gasoi Memorial Art Gallery.
As the story goes, decades ago town leaders asked the owners of Shop Therapy to help bring some "color" to the town's boarded up store windows during the dreary winter months of the year. In turn, the owner gave the responsibility of painting the wooden boards to an artist named Bob Gasoi.
Unlike some other local artists, Gasoi wasn't too interested in painting beach watercolors and landscapes. This artwork ended up a bit controversial, and probably not what you would call family-friendly.
The edgy paintings ranged from Greek mythology to scenes from the Bible and Alice in Wonderland. The artist, however, painted the faces of shop employees onto the figures in his artwork.
When the shop changed locations, the boards went into storage, but were later brought back out to accent the alley. These days they help make one particular alley into a true destination stop in Provincetown.