The Beachcomber is a Cape Legacy
Posted by Mark Washburn on Friday, June 19, 2015 at 10:25 PM
By Mark Washburn / June 19, 2015
Comment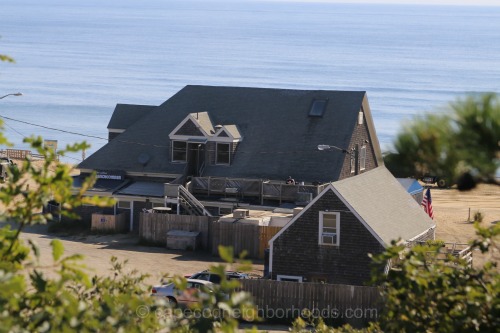 Along the Cape, summer means sunshine, sand, waves and, of course, a visit or two to the Wellfleet Beachcomber. More than simply a restaurant and nightclub, the Beachcomber is quite frankly, a Cape Legacy.

A tradition on Cape Cod since 1978, the Beachcomber has something for just about everyone. The location features food, drinks, live music, dancing and fantastic views of Cahoon Hollow Beach.

Referred to by locals as the "Combah", the location uniquely sits on the top of sand dunes, which line much of the coast of Wellfleet. For a century the building has stood the test of time, originally housing the Cahoon Hollow U.S. Life Saving Station, but now abuzz with fried seafood, families and picnic tables. The location also serves adults with dancing and live entertainment throughout the summer.

The location serves up a raw bar of oysters and clams, as well as Nauset steamers. Other delicacies on the menu include fried clams, oysters, grilled shrimp and clam chowder. If you've had your fill of seafood, you can also load up on Buffalo wings, nachos, pizza and fries. To wash it down try one of the specialty drinks like the Cape Cod Bloody Mary or the Mooncusser.

Just steps from the water, the Beachcomber remains one of the most popular destinations for locals and tourists each summer season. The location is open from Memorial Day weekend through Labor Day weekend, so if you're planning to go you need to make plans to visit during this season.

You'll find the Wellfleet Beachcomber on the eastern shore of Wellfleet, on the high dunes. This is within National Seashore Park. Dress is mostly casual, and many people come right off the beach to visit during lunchtime wearing their bathing suits.

The Beachcomber does not accept private parties, but may accept requests during certain days in June. Otherwise, the destination opens up to the public the Thursday before Memorial Day and closes at the end of business on Labor Day. Be sure and check before you go, though, because the hours may differ during certain days and weeks of the summer season.

Be sure, too, to bring some cash for parking. The nearby parking lots do get crowded, especially during the day, so plan ahead. You can also purchase an Ultimate Season Pass for parking and special offers to certain events as well as shopping discounts at the Route 6 store.