The Battle over Nauset Spit
Posted by Mark Washburn on Monday, May 4, 2015 at 1:11 PM
By Mark Washburn / May 4, 2015
Comment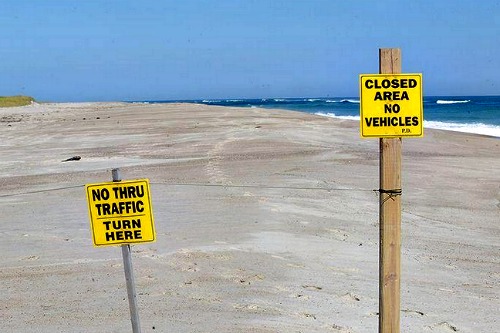 There's a battle gaining ground on Cape Cod, and this one has one local town pitted against another. The controversy has to do with Nauset Spit. This barrier beach has traditionally been a popular place for off-road vehicles. At least it was until about a year ago.
Last summer the Eastham Conservation Commission passed new rules, barring residents of Orleans from driving on the part of the beach that sits within the boundaries of Eastham. The problem is that for decades, residents of Orleans who paid $50 for an ORV permit have had the right to drive out onto the beach.
In fact, until the summer of 2014, residents were able to drive out to Nauset Inlet, as long as the beach wasn't closed to vehicles due to wildlife preservation efforts. The recent ban prevents that.
At the heart of the issue is who actually owns the land involved. Due to storms, more and more sand has been deposited from the Orleans side, on over to the Eastham side. As of right now, it's about a mile of beach.
According to Cape Cod National Seashore, it owns part of the beach, which extends into Eastham. While Eastham hasn't allowed driving vehicles on beaches located within the town since 1978, Orleans has allowed off-road vehicles on Nauset Spit for some time. Now that Eastham has a bylaw outlawing driving out onto the beach, the town of Orleans wants to put a stop to it.
Signs quickly went up on the beach last summer, warning Orleans residents of the new restrictions. Not long afterward, though, the signs were torn down. Pamphlets were also drawn up warning residents of the enforcement order, and the risk of fines if they drive over the town line. Fines also exist for the Town of Orleans, itself, if the violations happen.
According to Orleans, ORV use is not leading to erosion in the area and some Orleans residents aren't too happy with the recent regulations. Now, the Town of Orleans is trying to get the beach access back. In December of last year Orleans asked for the beach to be reopened to vehicles, but Eastham's Conservation Commission denied the request.
In January of this year, the town representatives unanimously voted again to appeal the issue all the way to the state. A final decision may not happen before the summer season, meaning off-road drivers need to prepare to either stay on the road, or pay a fine.