Take a Step Back in Time at the Brewster Store
Posted by Mark Washburn on Wednesday, March 25, 2015 at 9:17 PM
By Mark Washburn / March 25, 2015
Comment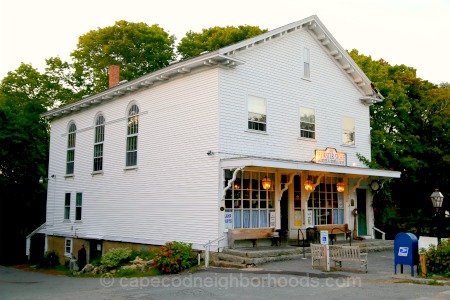 When you imagine Cape Cod, you probably think of the beaches, the boating, the fantastic old-style architecture and the scrumptious fresh and readily available seafood. However, Cape Cod also has a rich history to present to both residents and visitors, alike. To see it, you literally must take a step back in time. You'll see what we mean when you enter through the doors of the Brewster Store.

Since the mid 1850's, the building now housing the Brewster Store has been a staple of the community. Although it was originally constructed as a Cape Cod church, the building eventually became known as a post office and even a museum. The landmark now serves the community in a different way that its roots, though. Set up as a typical general store, this New England attraction contains such needed items as groceries, newspapers and even penny candy. Most importantly for the community, though, it also has a few old church benches out front, offering a place to strike up a conversation with your neighbor, or even make new friends with a stranger.

During the summer months, the Brewster Store is a great place to cool off. The Brewster Scoop is located in a shed around the back of the building, and is a fantastic place to grab some old-fashioned ice cream. The ice cream shop is open every day between Memorial Day and Labor Day, from early in the morning until late at night.

On the inside, the downstairs is home to an old, working nickelodeon, plus an old coal stove and peanut roaster, while the upstairs houses things like antique toys and tools, World War II bond posters, and other memorabilia from past generations. The second floor is called The Hall.

Although the building has been around for more than a century and a half, it has undergone some renovations in recent years. Around 1990, the building was reinforced, including a restoration of the church windows on the second floor. This was the first time since 1866 that the building had undergone a major refurbishment.

Next time you find yourself in Brewster, slow down and enjoy the pace of living and visiting such a historic and unique location. After all, when you enter the doors of the Brewster Store, you are guaranteed to find yourself taking a step back in time, gaining a new appreciation for this quaint, picturesque portion of Cape Cod.