Stony Brook Grist Mill: Brewster History
Posted by Mark Washburn on Monday, April 16, 2018 at 12:10 PM
By Mark Washburn / April 16, 2018
Comment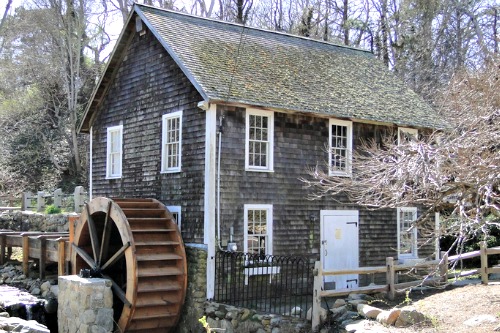 With a picturesque setting and well more than a century of history to its name, the Stony Brook Grist Mill is perhaps one of the most recognizable sites in Brewster. First constructed in the late 1800s, the mill and accompanying museum are the only remaining structures left from the old Factory Village, a once prominent industrial section of Brewster.

Generations ago, the grist mill was extremely important to Cape Cod, grinding up barley, rye and corn for the area with its water-powered wheel. Later abandoned, the Town of Brewster eventually purchased the mill and property around 1940.

In more recent years, a larger water wheel was installed as part of a restoration project aimed at bringing the grist mill back to operation, much as it was in the beginning years. Visitors can now watch the mill at work, while also exploring the entire property.

The upstairs museum allows visitors to learn more about early Cape Cod. It's open on Saturdays during select hours during the summer season. Visitors are often treated to weaving demonstrations and 19th century artifacts, plus you can also purchase freshly ground corn meal to take home as a souvenir.

Meanwhile, visitors are also free to stroll around the grounds at any time of the year, and enjoy the peaceful serenity of the pond. This historic spot is also a great place to catch the annual Herring Run each spring, as the fish migrate from Cape Cod Bay to Brewster's freshwater ponds.

The site additionally hosts several other special events during the year, including an open house during Brewster in Bloom in May, an Indian Pudding Party in late July and a Cornbread Festival to close out the season in late August. Volunteers pitch in to make all of this happen, helping out with festivals, acting as museum docents, hosting field trips and helping out with necessary maintenance projects as they come up.

You'll find the grist mill not far off Route 6A, with some available parking located just across the street. Admission to the historic site is free.