Stage Harbor Road Historic Designation Sought
Posted by Mark Washburn on Wednesday, August 2, 2017 at 11:34 AM
By Mark Washburn / August 2, 2017
Comment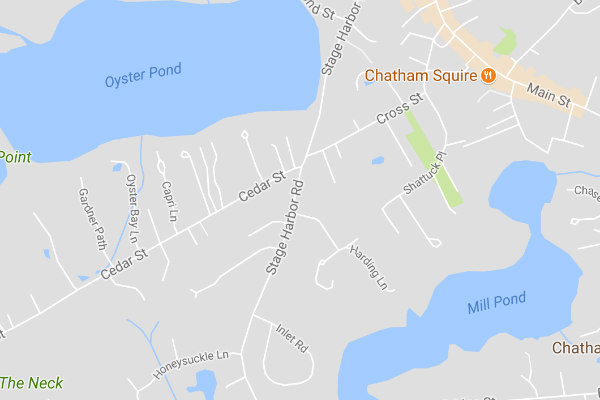 For years it's been up for discussion, but now Stage Harbor Road in Chatham is even closer to a possible listing on the National Register of Historic Places. An official with the Massachusetts Historical Commission was just in town, touring the site.

Chatham's historical commission requested the state commission come up with an opinion on the matter, as part of efforts to help protect historic structures in the area. A representative of the town commission points to some mostly intact homes that were constructed between the 18th to the early 20th century. Some say these homes can be traced back to Chatham's development from a maritime to a summer resort community.

The area in question includes nearly three-dozen homes, spread across about 30 acres from roughly the intersections of Bridge Street to Cross Street. Already noted as one of the oldest roads in Chatham, Stage Harbor Road is the location of the Atwood House and Museum, constructed in the mid 1700s and currently owned by the Chatham Historical Society.

If the road receives the historical designation it will help provide more protection when it comes to preserving properties in the area in the future. The planned demolition of one particular home located on Stage Harbor Road was delayed in late December of last year, pending a possible designation. Owners of the mid 1800s period home desired to demolish the property, then construct a new home to fit in with the existing neighborhood.

With other homes going up for sale too, some long-standing residents have been concerned about preserving the historical integrity of the area, especially in the case of a change in home ownership. The old road runs from the pond to the docks of Stage Harbor.

The state official who came to town to inspect the Stage Harbor Road area also viewed South Chatham. Currently, just one structure in that area is on the National Register of Historic Places.
Homes For Sale on Stage Harbor Road
Stage Harbor Road Homes For Sale
WALK TO VILLAGE, BEACH, PRIVATE POOL. Classic Cape Seaview Luxury in a highly desirable location. Privately elevated on a hill with views of Oyster Pond, with sandy beach across the street and also...