Shopping Fun in Chatham Village
Posted by Mark Washburn on Friday, April 3, 2015 at 3:44 PM
By Mark Washburn / April 3, 2015
Comment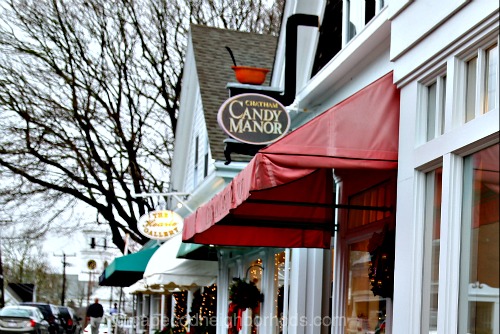 There's something fun about shopping in a small town. You won't find a lot of big box stores here, but you will find a unique adventure rich in authentic traditions and experiences.

Shopping in Chatham Village means everything from homemade candy and fudge, to quaint little stores packed with everything from cooking gadgets to antique maps. While the fun of uncovering these little shops is strolling down Main Street on your own, we're uncovering four stores you may want to mark down for your next trip to town.

Chatham Candy Manor
Chatham Candy Manor is one such place. This shop has been a family tradition since the mid 1950's, with recipes passed down between the generations. While the store once sold creations off of card tables on the 4th of July, these days Chatham Candy Manor stands proudly right along Main Street. The store offers everything from hand-dipped chocolates to homemade fudge and specially made candy bags.
Sea Salt & Pepper
Another specialty shop along Main Street is Chatham's one and only Sea Salt & Pepper. This store is a chef's dream, packed with all kinds of cookware and gadgets. Even if you aren't much of a cook yourself, you're sure to find a fun and unique gift for friends and family members inside this Chatham shop.
Maps of Antiquity
Talking about unique gifts, what about an antique hand-colored map! It's probably not something that first springs to mind, but it is unique! The Maps of Antiquity store moved to Chatham's Main Street in the mid 2000's, and now includes sales of reproduction maps as well as thousands of other maps. You'll also find a rare collection of 17th and 18th century maps as well as map restoration services.
The East Wind Silver Co.
Finally, our number four pick for unique shopping fun in Chatham Village is at The East Wind Silver Company. The gallery isn't simply for art or for jewelry, but rather it's a mix of both. This shop offers items like silver bracelets, necklaces and rings, as well as some Nautical-style jewelry for sale. You'll also find some interesting artwork including wreaths, mirrors, and handcrafted furniture, as well as home furnishings. Be sure you check the hours before you go, though. The East Wind Silver Co. is closed on Tuesdays, Wednesdays and Thursdays.

No matter your taste or your budget, you are sure to have some fun perusing all of the fine items for sale in Chatham Village.