Shark Watching Balloons
Posted by Mark Washburn on Saturday, August 18, 2018 at 3:40 PM
By Mark Washburn / August 18, 2018
Comment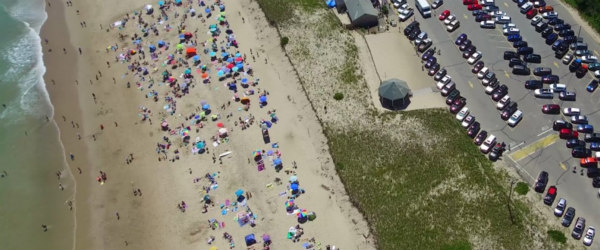 Nauset Beach, viewed from 200 feet above the dunes. Photo Courtesy Altametry
It may sound kind of low-tech, but a somewhat simple idea could be the solution to making a high-tech shark tracker off the coast of Cape Cod actually work. Researchers are looking at expanding a pilot program that used balloons to help spot sharks off the coast of Chatham last summer.
The idea comes from a company called Altametry SmartBalloon out of Miami. Their specialized balloon uses high-def cameras, specialized lens filters and video streaming to look into the ocean and notify officials when sharks are close to the shoreline.

Crews tested out the equipment off Cape Cod with a trial project in early August 2017. While the program seemed to work as planned, there were no sharks to capture at the time. In another test, crews deployed the balloons from a boat, then successfully monitored and tracked two white sharks.

The firm now hopes to make a 40-mile network, featuring 15 of the balloon-mounted cameras between beaches spanning from Provincetown to Chatham. It would mean balloons at Harding's Beach, Lighthouse Beach, North Beach Island, Nauset Beach and others leading on to Long Point.

Until now, researchers had to use a small plane and pilot to radio in any reports of shark sightings. They then had to chase down the sharks in a boat to gain video and try and tag the sharks, as well as warn beachgoers of any confirmed shark sightings through the Sharktivity phone app. It's expected that the high-tech balloons, though, would deliver a greater range and potentially even offer thermal imaging technology.

Some suggest that the shark population has been on the rise in recent years, although it's not known if the number has actually increased or if they're just more visible, lured closer to shore by a growing number of grey seals in the area.

Regardless, the increased number of great white shark sightings has led to several temporary closures of Cape Cod beaches. That's something that's top of mind as officials look for new solutions to what may be an increasing problem.