Ride the CapeFLYER to Cape Cod
Posted by Mark Washburn on Wednesday, January 14, 2015 at 7:32 PM
By Mark Washburn / January 14, 2015
Comment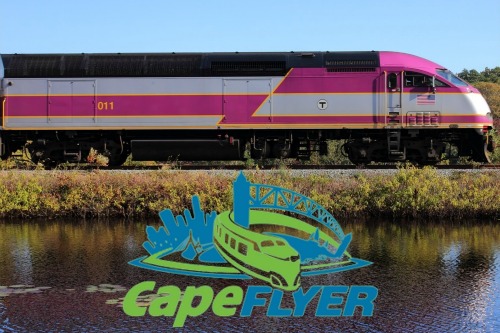 Getting to Cape Cod doesn't have to mean a long drive in the car. Sit back and enjoy the ride, without all the traffic, aboard the CapeFLYER. This passenger rail line currently runs each Friday and weekend during the summer months, starting Memorial Day weekend and ending Labor Day weekend.
The rail service started in 2013, and has steadily expanded with new stops in places like Wareham, and possibly may even feature expanded year-round weekend service in the future. The ride from Boston to Hyannis takes a little more than two hours and covers nearly 80 miles of track. On Fridays, the ride takes a little longer due to additional stops. Also, Cape Cod limits passenger trains to 30 miles an hour, which adds some additional travel time.
Once you get to your location, you can catch one of the many shuttle buses. That's the case in Wareham Village. In Buzzards Bay, you can catch a shuttle bus to the Steamship Authority ferry dock where you board the ferry to Martha's Vineyard. In Hyannis, the CapeFLYER provides access to the shuttle buses and the fixed route bus network on to the Hy-Line Cruises, ferry docks, or on to service for Martha's Vineyard and Nantucket. You can also connect with motor coach service on to the Outer Cape.
If you wish to buy a ticket, adult fares run around $22 for a one-way ticket and around $40 for round-trip tickets. If you have a family, you catch a break. Tickets for kids 12 and younger are absolutely free! You can buy a CapeFLYER ticket to ride in South Station at the ticket office, purchase your tickets via the MBTA mTicket App, or even buy tickets on board the train. You may want to arrive a little early, though, because the fares are unreserved.
If you get hungry along the way, it's no problem. The CapeFLYER sells concessions like sandwiches and fruit, and even things just for grownups like wine and beer in its Café Car. If you need to put in some remote time at work, or want to catch up on a few emails, the rail service also provides Wi-Fi to passengers free of charge. You don't have to leave your four-legged family members at home, either. The rail line is pet-free. You can even bring your bike on board for free. So why not ride the rails like the locals and give the CapeFLYER a try.