Rexhame Beach: Ideal for Four-legged Friends and Their Humans
Posted by Mark Washburn on Wednesday, February 26, 2020 at 6:46 PM
By Mark Washburn / February 26, 2020
Comment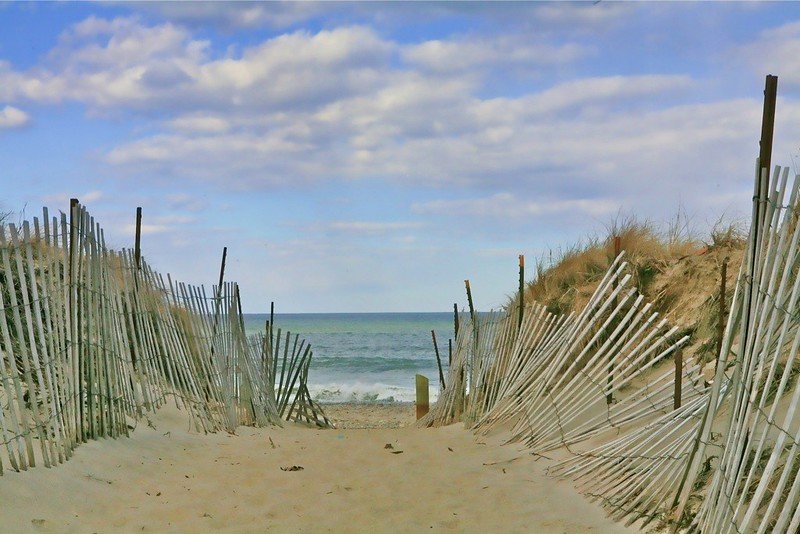 Photo: Kate Hannon
If you're looking for a great beach to take the entire family, consider a trip to Rexhame Beach in Marshfield. The beach is an ideal spot for four-legged friends and their human family members.
While many public beaches on the south shore don't allow dogs to come out on the beach during the summer season, that's not the case at Rexhame Beach. Located at the far end of the parking lot is one of the main entrances to the beach, and it even provides a stand with dog bags.
Just off the parking lot is a gated entrance leading to trails running along the South River. If you don't want to take your dog on the beach you can easily connect up with one of the nearby dog hiking trails near the beach. The hiking trails are good for dogs and people because they're made of a mix of heavy sand and stone. The sand is good for a workout.
You can go for a run with your canine companion along the South River on the backside of the beach. The river is also a good spot for dogs to go swimming.
It's actually a fairly popular spot for dog owners to visit. If you look closely, you'll notice some of the benches in the back marsh area have been dedicated to dogs, thanks to the Marshfield Canine Club.
There are also some restrooms for people at the beach and there's a snack concession area. The town beach also offers a parking area. Local residents need a town sticker to park at the beach. Visitors can park there with a day-use fee. During the peak summer season, a day pass starts at around $15. On the other hand, it's just $5 to visit after 5pm daily and it's free to visit Rexhame Beach in the off-season.