Revisit History at the Swift Daley House
Posted by Mark Washburn on Monday, October 19, 2015 at 10:43 AM
By Mark Washburn / October 19, 2015
Comment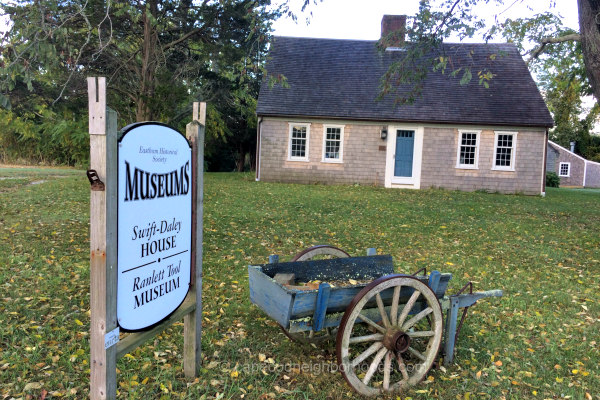 Right along Route 6 in Eastham sits a unique piece of history for the Cape Cod region. While this 1741 built home may look a lot like other homes in the area, the Swift-Daley House is an excellent place to revisit history. Now a museum, the house has stood for 274 years, currently operated by the Eastham Historical Society.

One step inside and its easy to see history come alive within the home. With prized Nova Scotia, pumpkin pine floors, the lumber was not only expensive in the 1700s, but also hard to come by. As well, the home includes a number of design elements unique to the period of time in which it was built. One of these is a borning room on the home's south side. This room would commonly have been used for childbirth, as well as to care for the sick. On the north side of the home is a room that families would have laid out the dead before holding a burial.

In addition, the home also includes a formal parlor, narrow stairways and a kitchen fireplace, all of which were, again, common in homes of this time. To reflect the history of those who lived in the home, the interior is now furnished in everything from Colonial to Victorian elements. Completely furnished, the home today includes period clothing, quilts, china and furniture.

Owned by the Knowles family for more than a century, the original style of the home was never changed. Future owners helped restore the home, including painting the cabinets in the kitchen with a folk art style.

If you'd like to visit the Swift-Daley House Museum, it is open on Wednesday, Thursdays and Fridays from 10am to 1pm during the summer months. Right by the Eastham Post Office, the museum is part of the National Register of Historic Places. In recent years the home has seen renovations to its roof with the replacement of roof beams. The bowed roof was common with early homes constructed by ship's carpenters.

The museum sometimes hosts guided tours during seasonal hours. In addition, the complex also includes the historic Dill beach camp. Moved from the beach in 1980, it was the only house that survived the winter hurricane that did extensive damage to Eastham's Coast Guard Beach. The site also includes a tool museum as well as a gift shop, again open seasonally for visitors.