Red Maple Swamp Trail Reopens
Posted by Mark Washburn on Monday, July 3, 2017 at 12:05 PM
By Mark Washburn / July 3, 2017
Comment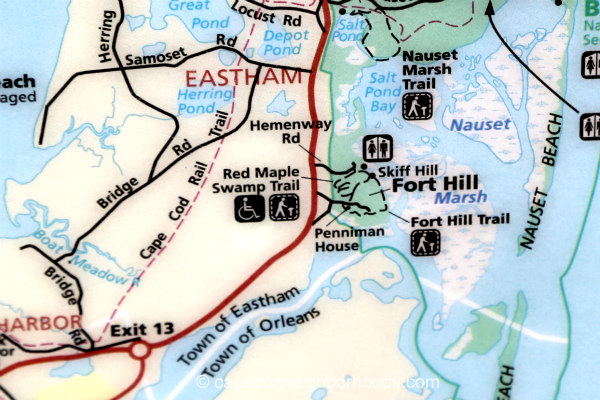 It's been off limits for several years, but a popular boardwalk of the Red Maple Swamp Trail is now open once again, and locals are beginning to take notice. The opening means visitors can now travel across the entire swamp, with a few areas still set to receive some touch-ups later this fall.

Until recently, walkers were only able to go partially into the swamp from Fort Hill Road, with barriers blocking them from crossing to Hemenway Road. Crews closed off the boardwalk because it was badly in need of repairs and had become a safety issue, with some weak posts and boards along the way.

Seashore workers handed the repairs at a substantial savings. Some estimate it could have cost $1.6 million, while local crews were able to do it for around $571,000 after some community fundraising.

It also gave the local maintenance staff the know-how to make future repairs at other sites down the road. Once such location could be the White Cedar Swamp Trail in Wellfleet. The remote trail is said to be in declining shape.

As for the Red Maple Swamp Trail, repair crews used composite boardwalk material and cedar posts, harvested by local fire crews from trees cut during a clearing project. They also worked carefully, as to not disrupt the natural environment surrounding the boardwalk.

At nearly a mile long, visitors to the Red Maple Swamp Trail are in for about a 30-minute walk, round-trip. To access the trail, you enter from the Fort Hill Trail. Keep in mind that pets aren't allowed but there are some seasonal restrooms in operation, found near Hemenway Landing.

The newly constructed boardwalk takes visitors through the very heart of the Red Maple Swamp, with some of the best scenery celebrated when the leaves begin turning vibrant colors in the fall.