Provincetown Named Top LGBTQ Town
Posted by Mark Washburn on Wednesday, July 22, 2020 at 8:38 AM
By Mark Washburn / July 22, 2020
Comment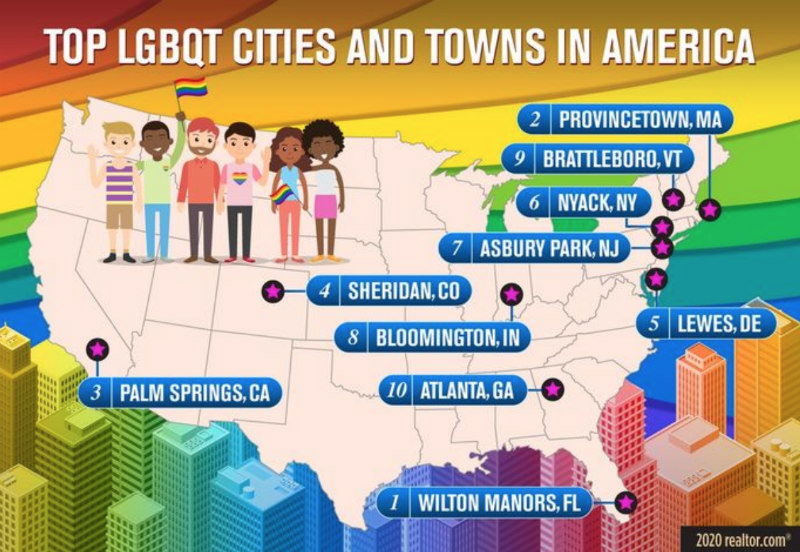 Graphic: Realtor.com
As one of the Cape's top vacation spots for generations, Provincetown continues to draw in visitors with its friendly, artistic vibe. While P-Town has long been considered a top LGBTQ destination, it's also getting prominent national recognition.
Realtor.com is just one online publication that recently put Provincetown near the top of the list when it comes to the nation's most LGBTQ-friendly towns and cities. The website looked at US Census Bureau data to find cities with the highest percentage of same-sex couples.
Analysts then considered the locations with Price celebrations, and those with LGBTQ centers. While some big cities are known for their LGBTQ friendliness, for this particular study analysts looked for places with a smaller overall population, but also a higher percentage of same-sex couples.
When all was said and done, Provincetown took the number two spot. Realtor.com credits P-Town with being an especially welcoming place for sun lovers, artists and others since the 1920s.
That's when Provincetown first emerged as an artist's colony. Today, Provincetown is still considered the oldest continuous art colony in the nation.
It's just as common to see rainbow flags flying on busy Commercial Street as it is to stroll by the town's many unique art galleries and boutiques. Many of the town's galleries are open to visitors on Friday evenings.
Provincetown is also home to several festivals and theme weeks including Fantasia Fair, a week-long transgender event that's held each fall. There is also Bear Week, which commonly attracts thousands to the region.
Last year, another travel and adventure website ranked Provincetown as number one on its list. Matador Network referenced while less than 3,000 people live in P-Town year-round, the summer population often attracts more than 60,000 people.
It also makes mention of the many art galleries, performance venues, restaurants and shops of Commercial Street. It additionally points out the popularity of Herring Cove Beach.