Popponesset: Cape Cod Seaside Village
Posted by Mark Washburn on Friday, July 19, 2019 at 9:47 AM
By Mark Washburn / July 19, 2019
Comment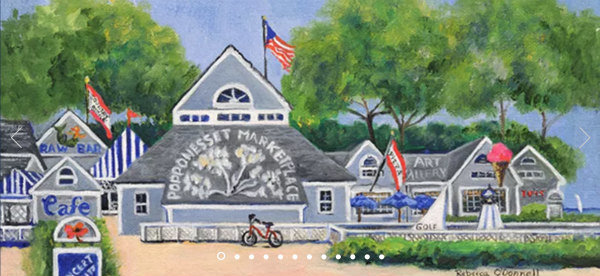 Graphic: Popponesset Marketplace
Popponesset may not be as well-known as some of its nearby counterparts, but it's certainly gaining in reputation. For years the community was known as a destination for the middle-class of Boston, and its charming character remains strong to this day.
This Upper Cape village sits in Mashpee, but don't let its tiny population dissuade you. Bordered on its southern edge by Nantucket Sound, the village actually gains its namesake from Popponesset Bay.
Now decades since its beginning, the seaside village of Popponesset maintains a strong reputation as a popular family destination. Popponesset is home to more than a mile of private beaches, plus it also has its own baseball field, basketball court and community center.
It's also home to the popular Raw Bar with its award-winning lobster roll. In addition, you'll find a coffee shop, café, smoothie shop, ice cream parlor and a pizza shop in the area.
You can pick up a range of unique gifts and other Cape items at the Popponesset Marketplace, or simply enjoy live music and family-friendly activities on the weekends. A big part of the appeal of Popponesset, however, is its seaside location.
It's not often that homes go on the market in Popponesset, and possibilities don't commonly exist for new construction. You may, however, sometimes find a mid-century home just steps from the beach, a vintage cottage, or occasionally a rare oceanfront property up for sale.
While some homes of Popponesset may be in need of updating, many of them have been meticulously maintained through the years by previous owners. This provides the opportunity to invest in picture perfect views, with a beach home in the lovely Village of Popponesset. From its charming home designs to its scenic location, there's much to enjoy about life in the Upper Cape Village of Popponesset.