Paddleboarding on Cape Cod
Posted by Mark Washburn on Saturday, September 3, 2016 at 7:48 AM
By Mark Washburn / September 3, 2016
Comment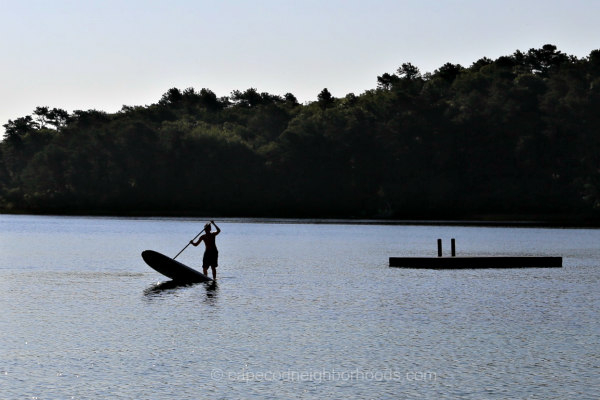 Paddleboarding is really making a splash on Cape Cod, one of the trendiest new options for water sports in the region. In fact, some claim that standup paddleboarding is the world's fastest growing water sport, offering a challenging workout from beginners to those who are more advanced.

While the sport is great for workouts it's also quickly becoming a great way for exploring the waterways of Cape Cod, from the ocean coastline to the marshes and kettle ponds. Because you stand up to paddleboard you're sure to take in some great scenery, from the fish and seals to the shells washed up near the shore.

It's easy to find paddleboard rental shops all over the Cape, many of which not only offer up lessons but also include guided tours. While workers can suggest some of the best places for paddleboarding some locals recommend starting out on a kettle pond. They're usually less crowded plus there's no current and the water is warm. The beaches on the south side that face Nantucket Sound are exposed, often making for choppy paddleboarding conditions. For the calmest water, it's suggested that paddleboarders start out early in the morning before the breeze picks up.

If you do want to take a lesson the first time around there are plenty of options, with lessons going for around $60 and equipment rental only for around $40 per day. The sport is said to be great for both kids and adults, and for those of all abilities.

While there isn't a lot of equipment to buy or rent, if you do choose to head out in saltwater make sure you're following the rules. According to U.S. Coast Guard regulations paddleboarders must have on a lifejacket when heading outside the surf zone. Other recommendations include a water bottle, sunscreen and a whistle just in case you're caught too far from shore.
Explore Cape Cod Pond Neighborhoods