Our Favorite Cape Ice Cream Shops
Posted by Mark Washburn on Wednesday, April 29, 2015 at 2:32 PM
By Mark Washburn / April 29, 2015
Comment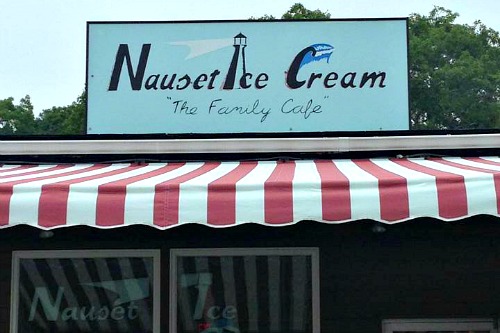 There's nothing like cooling off after a day in the sun with ice cream, and no place better to do it than on Cape Cod. We came up with a list of three of our favorite spots for indulging in the sweet treat.

Sundae School Ice Cream

First on the list is Sundae School Homemade Ice Cream in Dennis Port. Sure to satisfy your sweet tooth, this local tradition has been around since 1976. The shop still makes homemade ice cream every day, just like they did in the old days. The shop is located in a renovated historic barn, and includes a nearly 100-year-old marble soda fountain.

This family-owned business now includes another store in East Orleans, as well as one in Harwich Port. Sundae School prides itself in uses fresh fruit, pure vanilla extract and other quality ingredients. Food and Wine Magazine recently named Sundae School among the nation's best ice cream spots. Once you try it, we're sure you'll be begging to go back for seconds!

Nauset Ice Cream

Next on our list is Nauset Ice Cream, home of more than 30 flavors of homemade ice cream. In addition, if you're watching your diet, the shop also serves up sugar free, low fat and non-fat ice cream and sorbet. Nauset makes its creations every day right on site.

Nauset is open from noon to 10 pm every day of the week between April and September. You'll find Nauset Ice Cream along State Highway 6 in Eastham, not far from Coast Guard Beach or Nauset Lighthouse.

Ice Cream Smuggler

Not to be outdone, don't miss out on Ice Cream Smuggler in Dennis. Open daily during peak season, the shop claims to serve the Cape's best ice cream. In business for 35 seasons, Ice Cream Smuggler is right in the middle of historic Dennis Village, located on Route 6A. It's a great location, just a short walk from area beaches and other Dennis attractions.

Ice Cream Smuggler offers a variety of flavors, as well as homemade ice cream cakes and pies, too. Don't forget to bring cash or a personal check, though, because this shop doesn't accept debit cards or credit cards.

Even if you can't make it out to try all three ice cream shops this season, make sure you find your way to at least one. Believe us, you'll thank us once you take that first bite!