Osterville Landmark Evokes Memories
Posted by Mark Washburn on Tuesday, April 5, 2022 at 4:43 PM
By Mark Washburn / April 5, 2022
Comment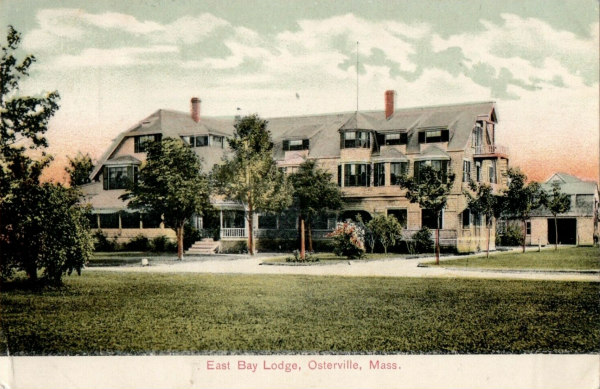 While one spot in Osterville is now technically the site of luxury townhomes, many still have memories of a true Cape Cod landmark. Originally constructed in the late 1800s, the old East Bay Lodge once overlooked East Bay and Nantucket Sound.
At the time, the area was becoming known as a resort destination, so a sea captain and his wife decided to remodel their own home, eventually turning it into of the finest inns in New England. It was expanded over the turn-of-the-century, then built onto again about a decade later to house the growing number of employees.
The inn continued to grow in popularity as the years went by. At one point, the inn offered tennis, golf, and croquet, while guests could also swim, boat, or fish.
The estate eventually grew to consist of several buildings. Many guests stayed at the East Bay Lodge in Osterville for weeks, or even months at a time.
The lodge also served up some of the region's best cuisine. Decked out with fine china, silver and white tablecloths, guests came to its dining room formally dressed to enjoy its restaurant.
The restaurant used the property's own vegetable garden to supplement its elegant menu. The East Bay Lodge eventually turned into a year-round destination, as it hosted private parties, weddings, and banquets.
The site also added dancing, entertainment, and catering services. East Bay Lodge remained open for more than a century.
Its restaurant closed in the mid 1990s, and the inn soon followed. In the late 1990s, the lodge was demolished and replaced by 15 luxury townhomes, which we now know as The Cove at East Bay.
The classic, Cape Cod-style townhomes have attached garages and private master suites. Still, many longtime Cape Cod residents and visitors have lasting memories of the old lodge, and its service to the area.