New Outdoor Elevator in Ptown
Posted by Mark Washburn on Thursday, April 21, 2022 at 2:59 PM
By Mark Washburn / April 21, 2022
Comment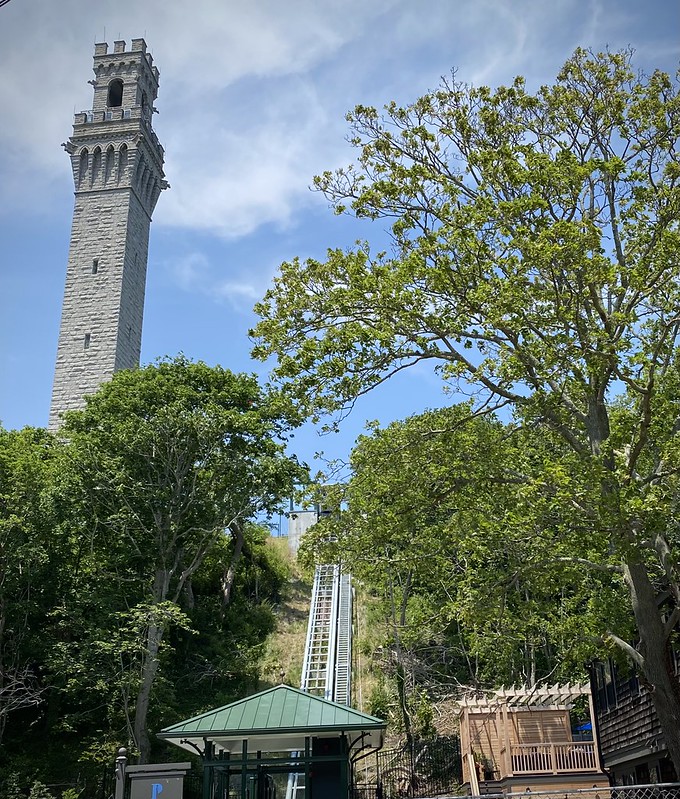 Photo: Shannon Hahn Darlin
There's a brand-new attraction in Provincetown, but this one has nothing to do with area beaches or even getting out on the water. Instead, this one gives a birds-eye view of Ptown.
It only takes about a minute to make it to the top, but the town's new outdoor elevator is worth it for the views. The single-track elevator takes off from Bradford Street and travels about 80 feet up High Pole Hill to the grounds of the Pilgrim Monument.
Prior to the new elevator, pedestrians had to use one of the nearby side roads to reach the monument, even though it is certainly visible from down below. The granite monument marks the arrival of the Pilgrims in the 1600s and was constructed about 100 years ago.
The April 1 opening for the new inclined elevator coincided with the seasonal opening of the Pilgrim Monument and Provincetown Museum. It's estimated around 100,000 visitors purchase tickets to visit the site each year. A new way to get to the top of the hill could push that number even higher this year.
Monument members can ride the glass elevator for free, but for those who are not members, you'll need a ticket to the monument and museum complex. A ticket costs up to $20 per person, and you can purchase one ahead of time, on-line.
It's rare to find this type of outdoor elevator in the US. There are only a few dozen of them, and only one other outside elevator exists in Massachusetts. Most are smaller, too.
Up to 18 people can travel on the Provincetown elevator at one time. While some lucky riders have already taken a ride to the top, an official ribbon cutting for the new elevator is planned for June. When you go, keep in mind the museum complex is closed on Tuesdays.
Explore Provincetown Neighborhoods