Neponset Wharf Approved For Port Norfolk
Posted by Mark Washburn on Saturday, March 12, 2022 at 6:22 PM
By Mark Washburn / March 12, 2022
Comment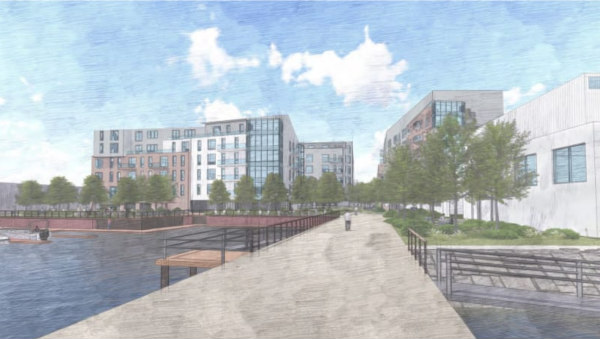 After nearly five years, a proposed residential, retail, office and open space project is pushing ahead at Port Norfolk. The Boston Planning & Development Agency's Board of Directors recently voted unanimously to support a proposal for the "Neponset Wharf" project.
Plans call for the project to consist of four buildings on the site, including some residential units and two-acres of open space right along the waterfront in Dorchester. The firm behind the project describes it as a mixed-use development.
It overlooks Boston Harbor from the Port Norfolk neighborhood. As for the residential units, they're expected to be one- and two-bedroom units, with some of them designated as income restrictive.
There will also be tens of thousands of square feet of office space, some community flex space and some retail space. Other additions to the project include a boathouse, a BLUEbikes station and new streets.
It's expected the new project will create hundreds of new jobs, including some permanent jobs and some construction jobs. The Neponset Wharf project will also try and help tackle some of the area's flood potential.
Developers are pledging $100,000 will go to fund some flood resilient features in the area. As well, the complex will also feature some environmentally friendly features, such as electric vehicle charging stations and rooftop solar panels.
Leading up to the most recent vote, the proposal has had both support and criticism. Some have been concerned about the overall size of the project, future traffic safety and flood protection.
There have also been supporters, though, praising the project for its potential to create new jobs in the area. Over the past several years developers have come out with several proposals on how to best use the property and its location.
Before developers can break ground on Neponset Wharf, the project still needs the go-ahead from state officials and from the Zoning Board of Appeal.