Nauset Beach Update
Posted by Mark Washburn on Wednesday, June 29, 2016 at 5:10 PM
By Mark Washburn / June 29, 2016
Comment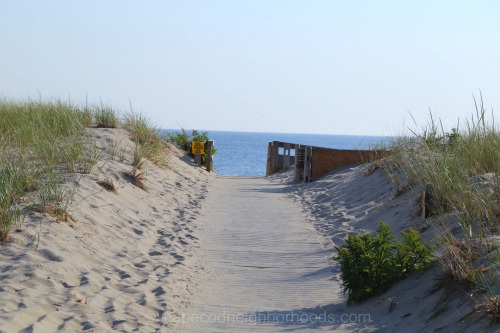 Marked by years of erosion, Orleans town leaders are being urged to act immediately to help salvage what remains of Nauset Beach. While the decades leading up to the early 1990s only resulted in about two to three feet of erosion a year, that changed substantially just a few years later. These days the expected erosion is 12-feet per year.
In another two decades some experts believe the erosion will push the dune up to the middle of the beach parking lot. Because geologists don't believe there's a way to stop the ocean's damage, efforts are instead being focused on helping to mitigate the impending erosion.
One of the key recommendations focuses on constructing another large dune on the backside of the existing one. To do so, though, would require taking out about 50-feet of parking. The cost won't be cheap either, expected to top $1 million. Other suggestions include using mobile restroom facilities and using money to make the paths to the water's edge wind instead of leading straight, then narrowing them by planting beach grass.
This isn't the first time that town leaders have attempted to control the onslaught of the powerful sea. Back in the mid 1920's officials tried using boulders to control the erosion. That plan did little or anything to stop the problem and it continues to result in issues that current town leaders and residents are now forced to tackle themselves, with overwash at Nauset Spit creating potential problems for both Orleans and possibly even nearby Eastham.
Popular for surfing, swimming, sunbathing and fishing, Nauset Beach is one of the most coveted beaches in the area for residents and visitors alike. It's not uncommon to see its parking lot already full during certain times of the day, known for its fantastic waves, impressive sand and fun for all ages.