Message in a Bottle Not Uncommon on Cape Beaches
Posted by Mark Washburn on Saturday, September 19, 2020 at 10:05 AM
By Mark Washburn / September 19, 2020
Comment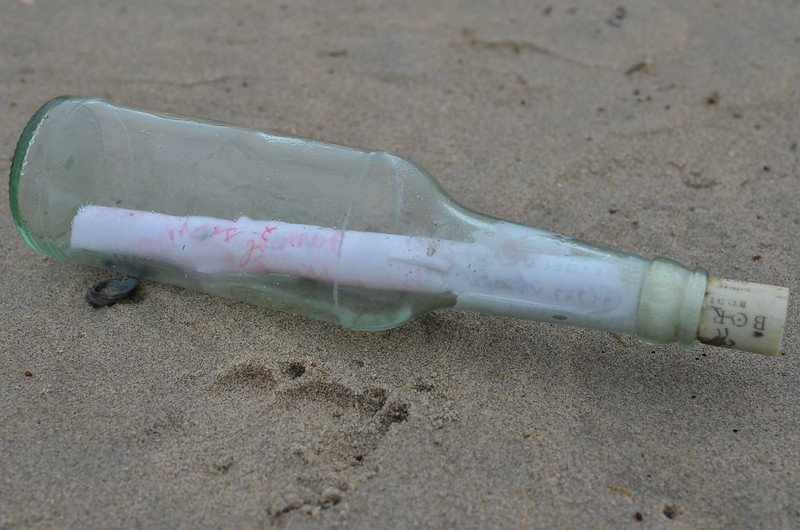 Photo: Blew Bird
You've likely watched a movie or even read a book about finding a message in a bottle. As it turns out, sometimes the story is real life.
When it comes to Cape Beaches, finding a message in a bottle isn't really that uncommon. Last month, a young family discovered their own bottle while walking along Falmouth Heights Beach and searching for shells.
The family says their three-year-old actually found the bottle. They picked it up, opened it, and found a message supposedly from the U.K, inside. The message was dated 2009. The family says they plan to put their own message in a new bottle and keep the gesture going.
It's not the only such discovery. Last December another man claims he found an old glass bottle with a message inside on a beach in Provincetown. That letter was reportedly signed by a young girl, and dated 1983. In this case, the finder says he tried to find the original author of the message but wasn't successful.
Of course, some stories do come with a different ending. In this case, the bottle washed up at Head of the Meadow Beach in Truro. The recipient believes the bottle washed ashore due to a Nor'easter.
The bottle and its contents looked a bit worn, but everything inside was still intact. The message was rolled up and secured inside a Ziploc bag.
This particular note came from a young girl in Maine. It was dated 2005, but it turns out had only been in the water for about two months. The girl's dad reportedly pitched the bottle off his lobster boat, somewhere off the coast of Harpswell in Casco Bay.
Later on, the recipient invited the young girl and her family to meet up. They came together on the very same beach where the bottle was found.