Marion's Pie Shop: A Chatham Legacy
Posted by Mark Washburn on Friday, January 30, 2015 at 9:17 AM
By Mark Washburn / January 30, 2015
Comment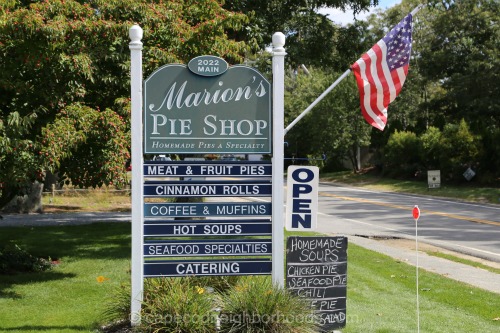 You'll find generations of history packed into each slice of pie at one of Chatham's most famous locations. Marion's Pie Shop is truly a Chatham Legacy when it comes to Cape Cod food. Around since 1947, Marion first began by baking chicken pot pies right in her own kitchen. Fast-forward more than 67 years and this charming little pie shop now has its own location, and its own special menu.

The bakery now includes a number of fresh fruit pies as well as a selection of savory pies. Baked fresh each day, the shop has expanded to include such favorites as seafood, clam, chicken and even hamburger pies. There are also a number of breakfast foods on the menu like cinnamon nut rolls, scones, fruit breads and muffins. During certain times of the year, you'll also find such treats as Irish soda bread and squash rolls. Quiche is also on the menu, along with a variety of cookies, brownies, some cakes and tarts.

If that's not enough to tempt your taste buds, Marion's includes a variety of comfort foods, to remind you of the delicious home cooking you may have grown up with. This includes layered lasagna, stuffed peppers, macaroni & cheese, and Shepherd's pie. There's also a scrumptious lobster salad roll and seafood casserole on the menu, made with fresh seafood, as well as sides like pasta salad, cole slaw, New England clam chowder and Boston baked beans.

While Marion's Pie Shop started on a small scale, it has also grown to include a popular catering component. The pie shop offers a catering menu for everything from cocktail parties to dinners. Marion's specializes in designing post-wedding brunches. Expect to find such offerings as a variety of homemade croissants, quiche, omelets, fresh fruits and fresh breads.

If you go, be sure and check the times. Marion's isn't open on Mondays during the winter, and closes in the early evening. If you're looking to place an order, be sure and give them a call. Marion's gets pretty busy during working hours and doesn't check email orders. It also gets crowded at times because the business isn't very big.

You'll find Marion's Pie Shop right along Main Street in Chatham, near the corner of Sam Ryder Road. Whether you're making it for breakfast, lunch, or an early dinner, be sure and go with a big appetite, for you'll want to taste everything in sight once you get there.