Marconi's Wireless Experiments Extended Across the Cape
Posted by Mark Washburn on Wednesday, August 25, 2021 at 1:25 PM
By Mark Washburn / August 25, 2021
Comment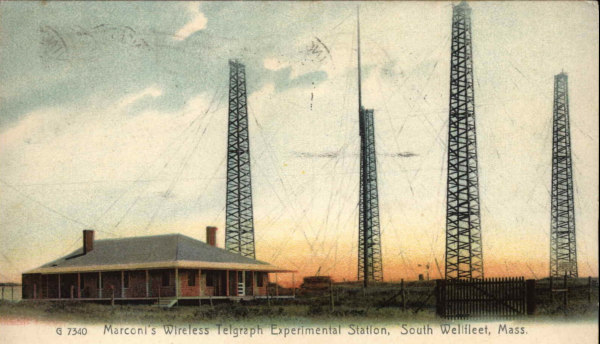 His name evokes strong ties to Wellfleet, but it seems Guglielmo Marconi's inventions actually extended across the Cape. The man responsible for the first transatlantic wireless communication between the US and Britain first began experimenting in the late 1800s in England.
He then took his experiments to Cape Cod, and successfully carried out the transmissions from the Marconi Wireless Station Site around the turn of the century. Cape Cod was, of course, chosen for its extreme eastern location.
The Wellfleet setting had some drawbacks, though, as the potential for erosion eventually threatened the site. After the station closed following WWI, its buildings remained but its transmitting towers and equipment were removed and sent to a site in Chatham. The buildings eventually lost out to the eroding cliffs.
Wellfleet, however, wasn't the only place on Cape Cod that Marconi touched. The inventor also built stations on Nantucket, in Marion and in Chatham.
The station located just off the Cape in Marion was reportedly the largest of them all. The 144-acre site contained more than a dozen dowers, each of which was more than 400 feet tall. The purpose of the Marion towers was to act as a direct communication line to a receiving station in Norway.
It's said Marconi's Nantucket Island station was the very first station in America to receive distress calls from the Titanic. The long-standing president of RCA even trained at the station as a radio operator.
During WWII, the Chatham station was used by the Navy to intercept German submarine messages and transmit them to Washington, DC. The station known as WCC is now home to the Chatham Marconi Maritime Center.
It's the place to go to learn more about Marconi, the history of the station and view some vintage memorabilia. You can also take the Antenna Field Trail, which leads behind some of the buildings and offers some information about the site along the way.